Have an important Google Meet call coming up? Looking for a way to transcribe it, but don't know how? We've got you covered.
With Amberscript, you can easily get transcripts of your meetings.
Whether you need to have the meeting transcribed by our AI or by a professional transcriber, Amberscript can help you get the job done quickly and accurately.
If you're interested in discovering how to get your company's transcription game to the next level—read on!
Conference calls are a proven and effective way to brainstorm ideas, update or train entire divisions, and conduct essential meetings with clients and upper management. Google Meet, one of the many excellent tools offered by Google, helps get the job done.
Google Meet is a video and audio conferencing platform that allows users to connect with each other in real-time. With Google Meet, you can host meetings, share screens, and even collaboratively edit documents with up to 25 participants per meeting.
Google Meet meetings are a fantastic way to get everyone in your company on the same page. But what happens when you need to go back and review something that was said?
Maybe you missed an important point due to choppy internet access, or perhaps you wish there was a way to experience the meeting again in order to glean new insights from it.
That's where transcribing comes in.
Transcribing is the process of taking an audio or video recording and converting it into writing. In other words, a transcript is an exact record of what was said during a meeting or conversation.
It's a convenient and modern way to capture vital information from meetings, conferences, or interviews—preserving them in clear words and paragraphs that make sense and can be easily read by anyone who needs to know what happened during the meeting.
Whether you use them to help fill in knowledge gaps, train new personnel, or review team performance, transcripts are a great way for everyone in your company to stay on the same page—and make sure nothing is lost in translation.
How Transcribing Google Meet Meetings Can Help You
Tools for business transcribing have a number of clear advantages. Knowing there will be exact records to refer to in the future means no more frantically taking notes during meetings, increased attention on calls, and accountability for both staff and clients.
When you can get more out of your online and in-person meetings—and when you can simply refer back to what you covered in them—you can reduce the number of meetings you need to hold.
But the benefits don't end here! There are many more reasons why having transcripts of all your conference meetings can be a huge benefit. Let's take a peek at eight more key areas of impact:
Given that a Google Meet conference call typically lasts 45 to 60 minutes, listening to recordings in order to uncover specific information might take up a lot of time (not to mention cause unnecessary frustration).
However, finding the precise part of the conversation you need to go back to is simple if you have a transcription of your meeting. You can use the search bar to look for keywords or phrases or the speaker detection feature to sort by who is talking.
This not only saves you valuable company time but also ensures that nothing is missed, especially actionable items and activities that need to be followed up on.
Uploading conference transcriptions to your business' website is a popular and effective technique to strengthen your SEO strategy.
Reading lengthy content like this not only keeps users on your website longer (improving your SEO score), but also gives you the chance to use additional keywords in your website's content. Additionally, prospective customers will get an inside glimpse of how your business runs.
3. Corporate Transparency
Pulling meeting notes and highlights directly from the transcript makes it simple to share them right away when needed. Customers, shareholders, board members, and other stakeholders will appreciate the ease with which you can share such detailed information.
This not only enhances the standing of your business but also gives your customers a sense of worth and participation in day-to-day activities. With this level of openness, you can avoid misunderstandings or rapidly resolve them.
KPIs and call analytics offer crucial information about staff productivity and behavior. But data by itself rarely provides the complete picture. Reviewing meeting transcripts offers a more subjective look at your staff members and reveals information that numbers and stats alone simply cannot.
For instance, a customer care agent may not resolve issues on the first call as frequently as you'd like, but they continually contribute great suggestions and valuable feedback during meetings. Call transcripts are a powerful and original technique to spot company leaders who might otherwise go overlooked.
Additionally, by looking over transcripts, your staff can evaluate their own performances—assessing their own strengths and shortcomings.
5. Industry Regulations & Legal Protection
Depending on the industry you serve, it can be legally mandatory for your business to record all Google Meet sessions and provide transcriptions of them.
This is particularly typical in the legal and financial sectors, as well as on various journalism and reporting platforms. Even if you are not obligated to do so, recording your calls for later review adds a strong layer of legal protection.
It is essential in today's market that your promotional materials, website, video meetings, and other aspects of your business be as easily accessible as feasible. By transcribing your company conversations and conferences, you ensure that people who are deaf or unable to attend meetings due to an impairment can still participate and contribute.
Google Meet transcripts are also great for learning more about your customers. As part of your market and consumer research, you should review transcripts of client conferences or even internal meetings with your market analysis team in order to gain insight into your customers' needs, desired products or services, and expectations.
These transcripts can also be an excellent resource for learning more about client demographics, trend forecasts, how to improve your sales pitches, and employee training.
Finally, transcripts of meetings assist you in creating solid corporate archives and documentation. These transcripts will forever be available for inspection by compliance officers, consultants, and top management—and would be especially useful at year-end reviews or during board meetings.
Additionally, uploading transcripts to the cloud or your website will take up considerably less storage space because their file sizes are typically far smaller than those of video files.
How to Transcribe Your Next Google Meet Session
Transcribing a Google Meet meeting is a breeze! For beginners in the world of transcription, here are the four steps to get you started:
Record Google Meet meeting
Upload recording to Amberscript
Specify a language
Pick human or AI-powered transcription
And voila! We handle the rest
The first step is to record your Google Meet meeting. Then upload your recording file onto Amberscript and select the language of your meeting (multiple languages available, including English, Spanish, and French).
Next, choose whether you want an automated or manual transcript (professional transcribers are more precise, but AI is speedier and more affordable). We'll then get to work processing your order and have your professional transcription ready to download in no time. It's really that simple!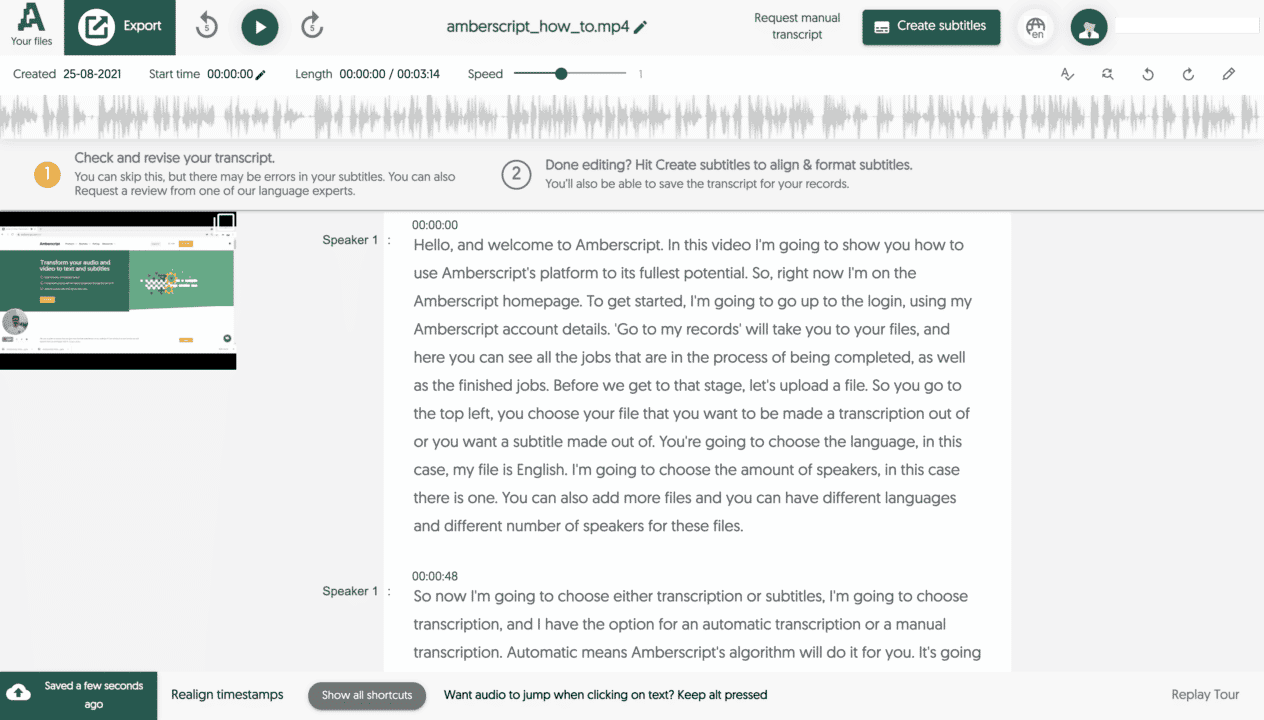 Amberscript: Pro Google Meet Transcriptions Made Simple
If you're searching for a snappy and uncomplicated way to get transcriptions of your Google Meet meetings, Amberscript is the answer.
Whether you're working with a professional transcriber or using our advanced artificial intelligence, we can provide you with the exact transcripts you need.
To discover more about how you can get the most out of your Google Meet meetings—connect with our team today!