When you think of TikTok, viral dance videos may be the first thing that comes to mind. TikTok has actually also had a big influence in making the use of video closed captions popular on social media.
Closed captions have become an important part of engagement strategy for TikTok video performance. To make the most of your TikTok videos, you actually have powerful tools you can take advantage of to add closed captions that are engaging, accurate, and fast to create.
What are closed captions?
Closed captions are the transcription of any audio speech in a video. They've become a very popular feature on TikTok and other video platforms, to the point where having them on your TikTok videos has become somewhat of an expectation.
On TikTok, captions can either transcribe what a person is saying in their videos and/or the lyrics of music that's placed in the background of a video.
How can adding closed captions to your TikTok video increase engagement?
Adding captions to your TikTok videos isn't just a smart strategy to increase video engagement, it's become a necessity. Studies indicate that the majority of people are more likely to watch a video in full if the video has captions.
Of course, the more people who watch your TikTok videos in full, the more it's promoted in the platform's algorithm. Captions have proven effective in capturing audience attention, better conveying information, and making videos more memorable.
Captions capture attention
TikTok content is all about the visuals, including captions. Captions are a large part of the visual experience on TikTok, especially when it comes to capturing and keeping attention to a video.
One research study described captions as "glasses for your ears," referring to the added clarity that captions offer viewers. Considering that the average person has an attention span of only eight seconds, you have a very limited window to convince people to continue watching your videos. The added clarity of captions makes it easier to capture that attention in those eight seconds.
Many TikTok users watch without sound
TikTok definitely prioritizes the audio content added to videos, but it also prioritizes the importance of videos with captions. A large number of TikTok users watch videos without the sound. One study found that 70-percent of people watch videos without sound when they're in public. TikTok users still want to watch videos while they're commuting, at work, or waiting in line in public places, but they'll skip videos that they can't understand without the sound on.
The habit of watching TikTok videos without sound is also common at home. Younger generations especially tend to scroll TikTok videos without sound while they watch TV, other video content, or while hanging out with friends.
Data shows that a majority of people leave their phones on silent throughout the day. That means that when those people open TikTok, videos are on silent by default. The impetus is on you to engage them with the sound off or inspire them to turn the sound on because you've captured their attention. Either way, you'll need captions to help you do both.
Turning captions on is becoming the norm
For a number of reasons, turning on closed captions while watching TV, movies, and other video content is becoming the norm among viewers (especially younger ones). One study even found that 80-percent of people who watch with captions on are not doing so because of a hearing impairment.
The more that people become used to watching videos with captions, the less likely it is that they'll want to watch videos without them.
This habit goes beyond personal preference. Audiences that primarily watch content with captions become used to engaging with it in that way. When videos don't offer that experience, they won't be able to engage with the video to the same extent that they do when captions are available.
That's part of the reason why TikTok videos with captions are more likely to be watched to the end than those without.
Better conveys your message
If you're putting effort into creating TikTok videos for your brand, you don't want them to be forgettable. Adding captions to your TikTok videos is actually one of the most effective ways to ensure that they're not.
It's been shown that captions and subtitles help leave a more lasting impression on viewers, including better awareness and recall. Videos with text stand out more and are more memorable than those without it.
All this goes to show that captions play a crucial part in communicating your message to your audiences, especially to the younger generations who are TikTok's primary users.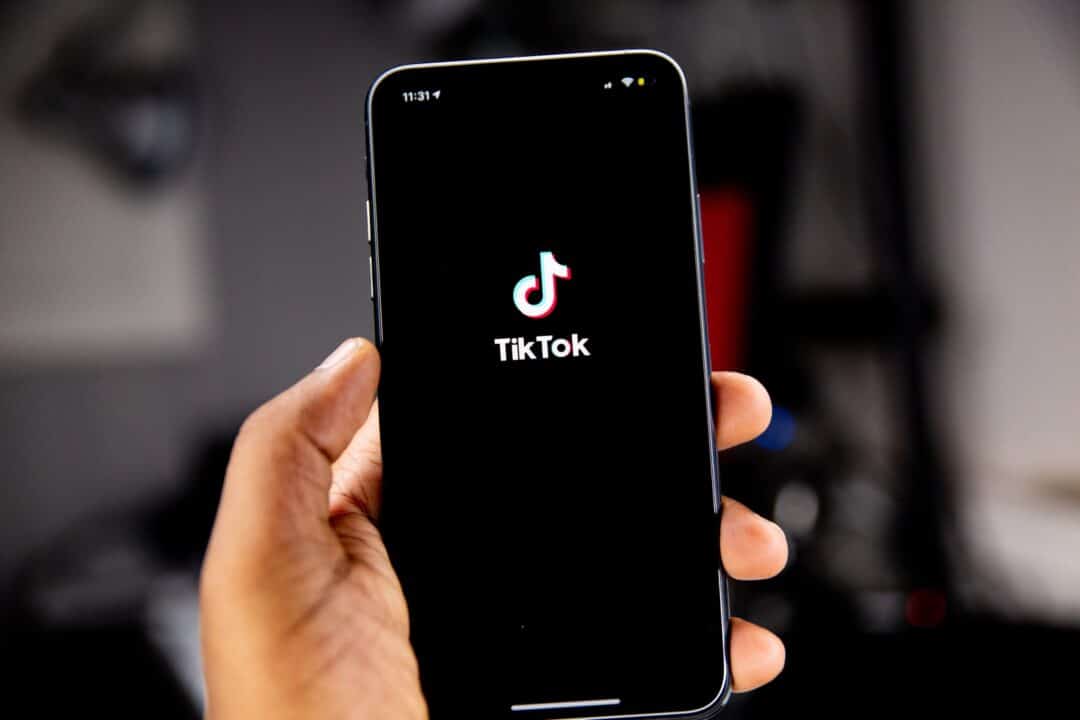 Steps for adding closed captions to an TikTok video
TikTok can be a demanding platform for publishers. If you're focused on producing consistent video for your TikTok account, you have enough on your plate without trying to caption them yourself.
You can take advantage of Amberscript's accurate and fast caption tools to make sure that you're making the most out of your TikTok videos without adding more work for yourself.
1. Upload your video to Amberscript
Captioning your TikTok video starts by simply uploading it to Amberscript, which takes minutes. You have the option of sending us your TikTok videos in a wide range of file formats of your choice.
2. Generate captions for TikTok videos with Amberscript
Once you've uploaded your TikTok video, you have a few different options for captioning your video. For day-to-day video content, our powerful automatic AI caption generator gives you an on-demand option for adding captions quickly and efficiently.
When you want to add other languages or add more complex, technical captions, our expert transcribers take care of business for you.
Our powerful Automatic subtitles platform is available to you anytime you need with high accuracy transcription. We use advanced automatic speech recognition and alignment technology to process the speech in your TikTok videos into captions.
Captions are automatically lined up in your video while you wait. Once the video captions are placed, you have the opportunity to view the product and make edits before finalizing it.
If you're looking to offer your TikTok video with different language caption options for audiences around the world, you can take advantage of Amberscript's Manual Translated subtitles. You specify the languages you want your videos captioned in and our team will caption your video in them.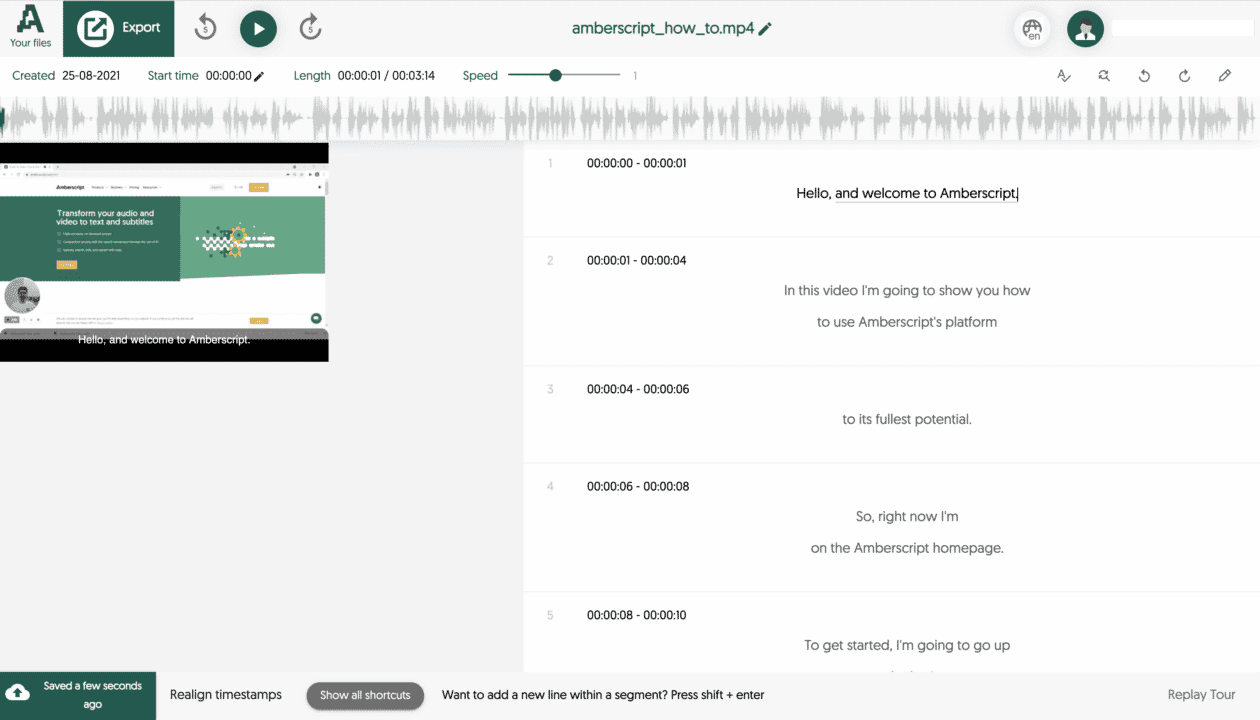 3. Customize the subtitles
Amberscript's AI caption generator allows you to make adjustments and edits after your video is processed. That includes adjusting the timing of the captions on your TikTok videos. Automatic captions have very high accuracy, but there may be slight changes you want to make out of preference.
To do so, make use of our online editor. The editor intuitively displays timestamped captions alongside your video so you can easily navigate through the video and make adjustments as you go. You can directly make edits to text as well.
4. Download the finalized video and upload to TikTok
Once the final version of your TikTok video is approved by you, you can export it in the video file format of your choice. Export the video with captions and upload it directly to TikTok for publishing.
In addition, you have the option to download the captions as text separately. Download them as Text, SRT, VTT, or EBU-STL files, or any number of other formats available to you.
The process is designed to make it easy to produce captions for your TikTok videos quickly, efficiently, and affordably.