Ever wondered how SRT subtitles are created? Ever thought about how to use .srt subtitles perfectly with videos and all the processes it requires? A guide is no longer afar. In this article, we will cover how to make and use SRT subtitles and all it entails.
What are SRT files, and what do they contain?
Firstly, SRT(.srt) is an acronym for SubRip subtitle. In simple words, they are plain texts that have subtitle information in them. They entail the start and stop time, the time a subtitle is required to move to the next, and they ensure that there is congruence with the written text and spoken word so that they move seamlessly and are displayed at the appropriate time in the video.
There are different kinds of subtitle files out there; some examples include VTT and EBU-STL. So, why SRT then? Why is SRT so preferred?
To begin with, SRT files are often seen on social media apps that permit uploading captions. You can upload a single file to the video you have created.
Adding .srt files to your videos can increase your viewer's retention rate and ensure more engagement level. Also, it gives your videos SEO benefits. When you upload/post videos on social media platforms like Instagram and Facebook, Google indexes them and considers them scalable. Most, if not all, of the keywords you have added to your video become searchable and this, in turn, helps your video appear on more search results.
To go further, with SRT files, you get absolute control over your subtitles. Though audio transcriptions are good, they aren't perfect. With these SRT files, you get full control over your subtitles.
Lastly, its simplicity. SRT has aged well since the DVD times and is still preferred because of its simplicity.
How to make SRT subtitles?
Just as there are several ways to make a pie, there are also several ways one can make SRT files.

However, there are three main ways you can do it:
1. Create the subtitles yourself
There is a lot of software you can use to create subtitles this way. These applications allow you to lock a time frame and write/type in the corresponding subtitle. However, you should keep in mind that this method is slow and time-consuming. Moreover, you will have to invest more time figuring out how the software you have chosen works and the best way to use it.
2. Outsource for creating subtitles

If you don't have the resources or time needed to make subtitles for yourself, you can always hire a person or an agency to do the work for you. Though this saves you a lot of time and is an easier way out, it could sink a deep hole in your budget. To give you a little bit of what you will be going into, the price for subtitling a one-minute video is about €10.
3. Use a speech-to-text service

You can automatically create subtitles using the proper software. And no doubt, this is the best of all the three options as it is time-efficient and cheap. You might have heard or been acquainted with the fact that YouTube can automatically generate subtitles. Nevertheless, the product is about 60% accurate. It is no new titbit that accuracy is a highly prized asset in subtitling. However, there is a transcription platform, Amberscript, that has come up with a speech recognition tool to make your search for the perfect subtitles for your video way easier. And guess what, as a plus, subtitles are embedded to a particular time frame by default, thereby saving you a lot of unnecessary stress. But how is this done?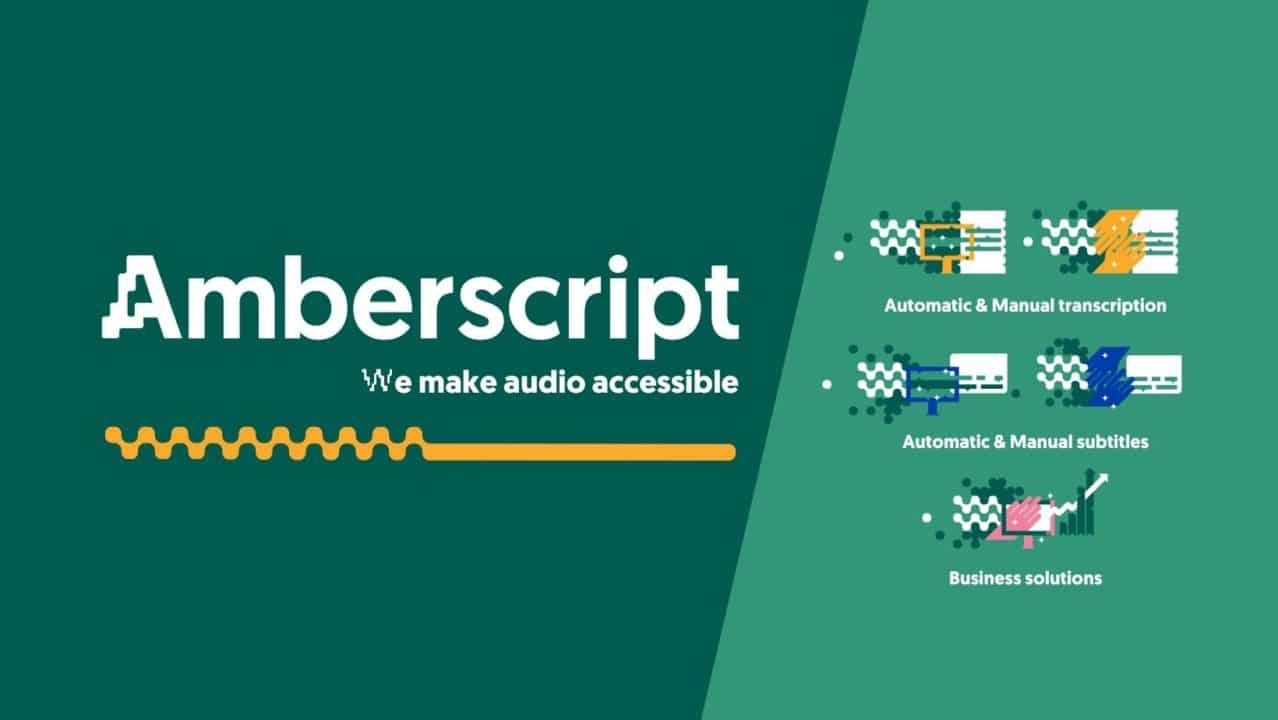 Creating subtitles using Amberscript
With Amberscript, making .srt subtitles is a straightforward process. Amberscript does this subtitling via their automatic .srt file generator. Below are five steps you have to follow to make your SRT file:
Upload the video file to AmberscriptVisit the Amberscript website, upload your video, specify the language you want the video to be transcribed in. Amberscript takes over the rest, and in the space of minutes, your video is transcribed.

Correction of subtitlesAmberscript goes further to correct the grammar errors that might appear during the transcription. This site does this using their built-in text editors.

Exportation of subtitleYou pick the style of text you want. Also, you choose the alignment you want.To add, this is the determining stage, where you pick if you want a .SRT file. You are given the option to export the subtitle file to the format you want, and in this case, it would be a .SRT file. Nevertheless, it doesn't stop there. You can decide to edit your subtitles to suit your preference. This is called formatting.

Personal editsThis is making local changes to individual lines in a .SRT subtitle. You select the line and make the changes you desire. For example, you can italicize text in the subtitle.

Export the fileEnsure you leave your subtitle in a default format so your changes are applied.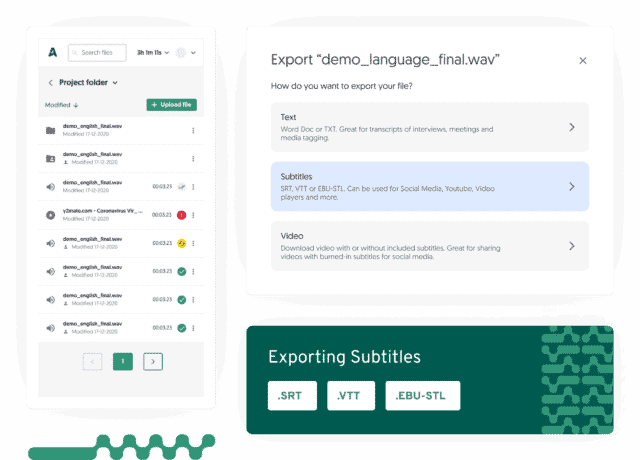 How to use SRT subtitles?
Though you have made your SRT file, it doesn't stop there; you will have to use it.
After you have made your SRT file, you have to apply. Use it in your video. This is the next and final step after getting your SRT file, and it is quite easy. You have to find a media player to play the video and .srt subtitle. Some subtitles are required embedded in the video for those who want to post on any social media platform. For this, you will have to take a different route to use these subtitles.
To embed the subtitle in the video itself, there is a way you can do it, and this process is called open captioning. This can be briefly described as;
To add open captions to your video file, you need the application, Handbrake, the video file, and a .SRT file.
Firstly, launch Handbrake, and open the video file. Next, you will go to the subtitle tab and import the SRT file. After you have done this, you will select the corresponding language and offset setting. Click browse and select the file name and location. Also, don't forget to tick the Burn in checkbox. After you have done this, click encode.
When you are done with all the above steps, you will wait till handbrake renders your footage.
After all of the above, you have your SRT file, with little or no stress and the best accuracy ever. However, why use Amberscript? Why not any other means? Here are three reasons you made the best choice by using Amberscript.
High accuracy
Amberscript is all about accuracy. Since we don't want viewers getting the wrong idea when they see our subtitles, accuracy is very vital. With Amberscript, after automatic transcription gets the spoken part of the video, It is perused repeatedly to ensure there are no flaws. Let's also not forget the inclusion of text editing, which helps to go over the grammatical aspect.
The large variety of languages
You have access to over ten different languages. Some of these languages are Danish, Chinese, Spanish, English, among others. The highly impressive thing about this is that the computers are not left on their own to handle these transcriptions. There are also numerous native speakers who help to make sure you get the best subtitles.
It is inexpensive
Comparatively and even taken individually, Amberscript is not expensive.Tersely, subtitling is an art that only the best hands should perform, and that is why Amberscript is the option you should be looking for and should be your .srt file generator. With them, you have assured accuracy and ease while creating your .srt subtitles.