Looking for a way to transcribe a Google Hangouts meeting but don't know how or where to start? You're not alone!
When running a company, time is money: you need to get the most out of every minute. If you're spending your time doing the work that somebody else could do for you, that's a huge waste of resources. That's why we've created Amberscript: a platform that allows you to get transcripts from your meetings and calls quickly and easily.
Amberscript helps millions of people and organizations to effortlessly obtain transcripts. Whether it's by using our cutting-edge AI or by working with an experienced human transcriber, we'll get the job done quickly and accurately.
Want to learn how to improve the quality of your company's transcriptions? Keep reading!
Whether you're looking for a cost-effective collaboration platform for your business or just want to connect with family and friends, Google Hangouts is a great choice.
Set up is simple, and it comes with free call minutes, so you can use it to conduct unrestricted calls worldwide. In addition to real-time text, phone, and video chats, Hangouts also allows participants to share screens, whiteboard tools, Google Docs, and more.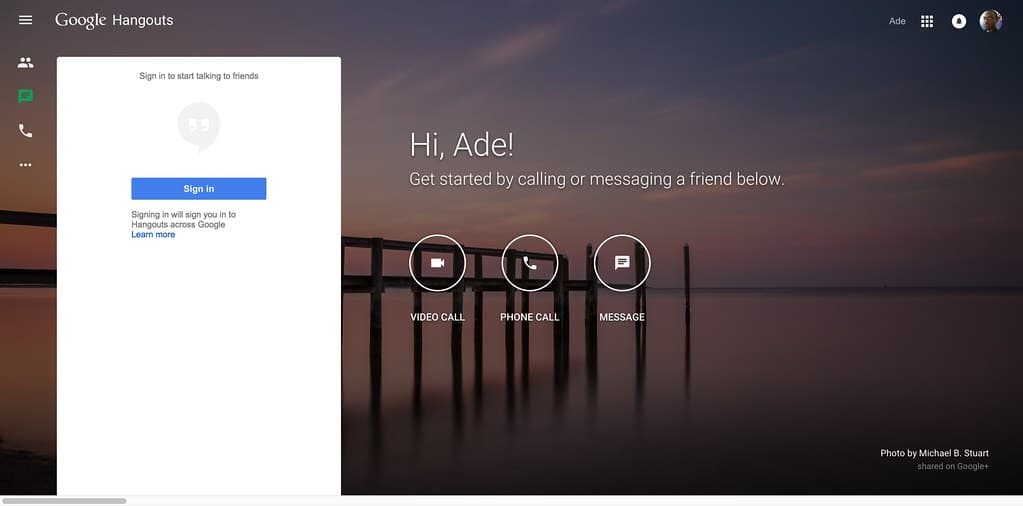 Transcripts are a fantastic way to ensure that everyone on your team is on the same page—figuratively and literally!
With Hangouts, getting all of your employees together for a Google video conference call is easy. But what if there's someone who missed the meeting? Or what if you want a way to review everything that was said to gain a better understanding?
That's where transcription comes in. With transcripts, you won't have to worry about miscommunication—you'll be able to look back at what was said in your recordings and see exactly who said what, and when.
Transcribing involves the process of translating an audio or video recording into writing. Simply put, it's a clear record of what was said during a meeting or conversation.
You can use your hangouts transcript for all sorts of things: training sessions, product demos, board meetings, sales calls, employee reviews—the possibilities are endless!
The Benefits of Transcribing Google Hangouts
There are tons of obvious benefits to using business transcription software: no more hastily taking notes throughout meetings, increased call attentiveness, and employee accountability are just a few advantages of Knowing there will be detailed records to review in the future.
Imagine the number of meetings you could reduce when you're able to squeeze more out of the ones you currently hold. But the positive perks don't stop there! Having your Hangouts transcribed can offer many additional advantages.
Here are eight more occasions where professional transcription makes a difference:
Playing back recordings to extract specific information can take a substantial amount of time, not to mention create undue annoyance, given that Google Hangouts chats often last more than an hour.
But if you have a written record of your session, it's easy to find the exact part of the conversation you need to go back to. In addition to searching for keywords or phrases, you can also utilize the speaker identification tool to sort by who is speaking.
While saving you crucial business time, this approach also guarantees that nothing is overlooked, especially when it comes to things that require immediate attention.
Content is king. It's a phrase you've probably heard before, and it's easy to understand why. The more data-rich content you can provide on your website, the better it will perform in search engines and the more traffic you'll get.
But what if there was another way to boost your content marketing and search engine optimization game?
If you're uploading conference transcriptions on your website, you're already doing something right! Not only does this practice keep readers on your web pages for longer (which improves your SEO score), but it also provides you with the opportunity to include more keywords in your website's text.
3. Promoting Corporate Transparency
As a business, you want to be transparent. You want your customers, shareholders, board members, and other stakeholders to know that you are open and honest with them.
One way to foster a sense of corporate transparency is by making your transcriptions available to the public. When meeting notes and highlights are pulled straight from the transcript, they are easy to share instantly if needed.
This not only enhances your reputation but also gives your audience a sense of worth and involvement. With this much transparency, you can avoid misunderstandings or quickly clear them up if they happen.
Employees do better when they know what's expected of them, and reviewing transcripts is a great way to get that information across.
For example, if you're looking for someone who can solve problems quickly and thoroughly, transcripts can show you who those people are. If you need someone who's able to understand clients' needs and give them the information they require, transcripts will help you find that person too.
A transcript gives you a personal look at your employees and shows you things that numbers and statistics alone can't. As a result, call transcripts are a great way to find leaders in your company who might be overlooked otherwise.
5. Industry Compliance & Legal Safeguards
If you're in the legal or financial industries, it's likely that your business is required to record and transcribe all Google Hangouts sessions. This is because of the sensitive nature of what's being discussed and the need to preserve accurate records.
Even if you're not lawfully bound to do so, transcribing your online chats so you can have them on hand to read later is a solid way to safeguard yourself against any conceivable legal situation.
6. Encouraging Accessibility
In today's market, your business's promotional materials, website, video meetings, and other parts should be as accessible as possible. Transcripts are one of the best tools for ensuring your company is genuinely accessible to everyone.
By having your company's meetings and conversations typed up, you make sure that people who are deaf or can't make it to meetings because of a disability can still take part.
This means they get the same information as everyone else and can make decisions based on what they've learned. It also enables them to sufficiently understand the context of discussions and guarantees they're not left out of any decisions.
7. More In-depth Consumer Research
You can also discover a lot about your customers from the transcripts of their Google Hangouts. As part of your market and consumer research, you should read the transcripts of client conferences and internal team meetings. This will give you a clear notion of what your customers need, what they want, and what they expect.
These transcripts are also a great way to learn more about the types of clients you have, how to improve your sales pitches, and how to train your employees to better serve them.
As a final benefit, when it comes to corporate archives and recordkeeping, meeting transcripts are an excellent resource. Compliance officials, advisors, and upper executives will always be able to reference these transcripts, which prove especially useful during board meetings.
In addition, publishing transcripts to the cloud or your personal server will require far less storage space since their file sizes are often significantly smaller than video files.
How to transcribe your Google Hangouts meeting with Amberscript
With Amberscript, it's easy to transcribe a Google Hangouts meeting. Here are the four steps you'll need to take to get started:
Record Your Google Hangouts meeting
Upload Google Hangouts recording to Amberscript
Select a language
Choose human or AI-powered transcription
And presto! We'll take care of the rest
To begin, start a Google Hangouts meeting and record it. Next, upload your recorded file to Amberscript and choose your meeting's language.
That's it! Your professional transcription will be ready for you to download in no time. It really is that easy!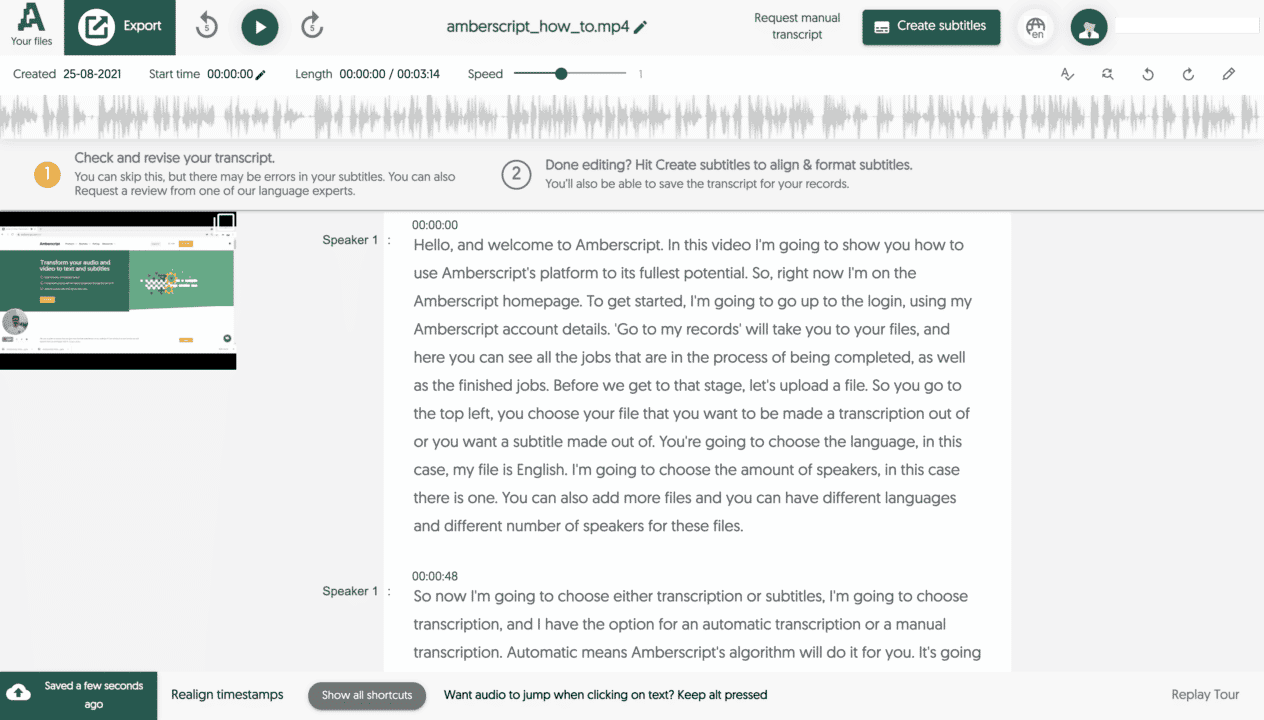 Amberscript: Expert Google Hangouts Transcriptions
At Amberscript, we're committed to ensuring that every one of our customers gets the 100% accurate transcripts they deserve, from start to finish. We'll work closely with your files to ensure that everything goes smoothly so that you can focus your energy on what's most important: getting results.