Don't want to miss anything about your video call? Here is how to record video calls with Zoom, Skype, Google Meet, Hangouts, and with your own computer.
1. How to record a Zoom call
Recording calls is a feature available to all users on Zoom. Free users have access to local recording, meaning that the audio or video file could be saved locally to their computer, while paid users have the option to store it in the cloud.

Local recording needs to be enabled by the admin of the account and it can simply be started by clicking on the "Record" button at the bottom right of the page at the start of the meeting.
The recorded files can then be uploaded to Google Drive, your dropbox or uploaded to streaming platforms like Vimeo or Youtube.
Go to Zoom for more detailed instructions and features.
2. How to record video calls on Skype
The recording function is only available for Skype to Skype calls (not when using skype to call a land phone number). One of the nice features of Skype is that the other speaker(s) receives a request for permission, so there is no need to verbally ask for consent. These are the steps to take to record and save your Skype call:
During the Skype call, click on the 3 dots to expand the menu and view all options.
If you are on a desktop, click on Start Recording, for mobile users, you can tap on the Start Recording icon.
All people in the call will receive a pop-up announcing that the call is going to be recorded.
The recorded file will be kept in your chat for 30 days. If you want to keep it longer than that, you can download it and save it on your computer.
Files from Skype will be saved in an MP4 format.
3. How to record Google Meet or Hangouts video calls
Google Meet, Hangouts, or Chat?
Google has introduced some significant changes for users: Google Hangouts users will be eventually migrated to the new Google Chat platform. Right now only a few types of G Suite domains can record a Hangouts Meet. This is only available for Enterprise and Enterprise for Education. Classic Hangouts/video calls via classic Hangouts do not have a recording feature.
Can you record a Google Meet video call?
Yes, if you are using one of the Google Workspace editions mentioned in the official Google support article. But that's not all – additional settings must be met, in order to be able to record a meeting with Google Meet. To record a meeting you need to make sure that a Google Workspace administrator has enabled the recording feature for your account. If it's enabled you can record only if:
You're the meeting organizer
You're in the same organization as the organizer
Last but not least: Recording is only available from Meet on a computer. Mobile app users are notified when the recording starts or stops, but can't control recording.
How to record a Google Meet call?
Start or Join a meeting.
At the bottom right of your screen, click Activities icon Recording.
Click Start recording button.
In the window that appears, click Start.
Wait for the recording to start. Other participants will be notified when the recording starts or stops.
When you finish, click again on Activities Recording Stop Recording.
In the window that appears, click Stop recording.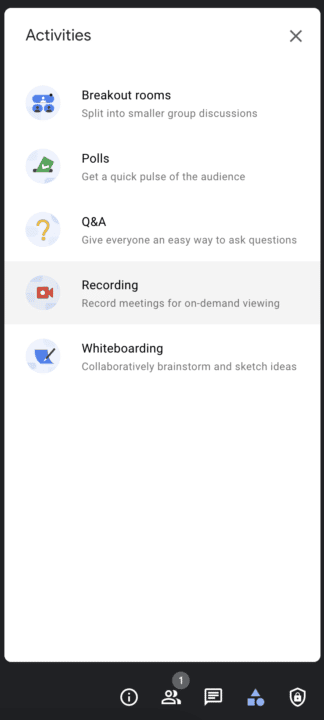 For more information about recording a video meeting please visit Google Meet Help.
If you do not have a G-Suite business account, you can still record the video calls by using a screen recording software.
4. How to make a video recording from my computer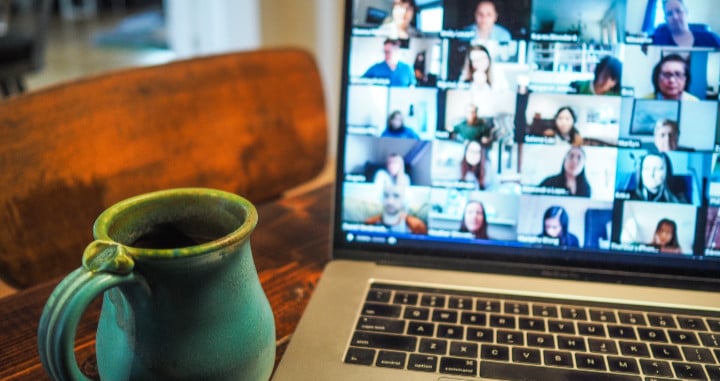 Choose a method to record
Option 1: use the media player on your computer
Whether you have Windows or Mac, you will need some type of software to record video and audio on your screen. The easiest way of recording your screen is using a media player, such as Quicktime Player (which is often already installed on Mac) or VLC Player. In both players, if you select "File" you will have the option to either "Start New Video Recording", "Start New Screen Recording" or "Start New Audio Recording". Select this option to start recording your entire screen, a part of your screen or simply the audio.
Option 2: use a screen recording software
You can also visit the Google Playstore or iOS App Store to look for other screen-recording software. Generally, some recommended apps include Screen Record, Screen Capture or Screen Recorder Robot. These apps have additional features but have not yet proven to work better/worse than media players if all you want to do is record video or audio.
Depending on what you want to record, you need to select the right option. Once you have selected the option, a small window with control buttons will open. You can use this to start, pause and stop the recording.
Save and export your recording
Once you are done recording, you can hit the stop button in the controls window. Then press Control + s (command + s for Mac users), to save your recording and export it as an MP3 or MP4 file.
Keeping important bites of information
Did you learn how to record video calls? If you would like to have a written version of them, you can use a platform like Amberscript to transcribe, edit and save the most important information from the meeting in-text format. Text files are easier to keep than video and audio and information can be consolidated before shared.
You can use Amberscript to transcribe your video or audio file, the first 10 minutes are free!