For many individuals, video conferencing has become an everyday aspect of their lives and work. From corporate meetings to remote training to virtual get-togethers with clients and colleagues, more and more people rely increasingly on tools such as Microsoft Teams.
In this blog, we'll discuss the importance of Microsoft Teams transcription and how easy it is to transcribe your next MS Teams session with Amberscript.
Microsoft Teams is a free multi-channel corporate communications platform and virtual workspace. It's designed to help you connect and collaborate more effectively with your coworkers, so you can get more done faster.
Teams offers a range of tools to help you get the most out of your meetings: whiteboards, screen sharing, audio, and video conferencing are just some of the many great features available.
If you have a major team meeting coming up—whether at home or in the office—Microsoft Teams makes it feasible to get up close and personal with your coworkers no matter how far away they are!
Do you need to keep track of what was said during a discussion or interview? Do you want to make sure that everyone who needs to know about the meeting can read it? If so, a transcript is the answer.
A transcript is a word-for-word written record of what was said during a conference or consultation, and it's used for various purposes. It may be requested for those with a hearing impairment, who don't speak the language being spoken, or for those unable to attend the meeting in person. In addition, transcripts help keep track of who said what and at what time.
Why Transcribe Teams Meetings?
Your employees are busy. They're working on projects, taking care of clients and customers, and keeping up with the latest news in their industry. So when you call a meeting in Microsoft Teams, it's not always possible for every employee to be present at the time of your call. But what if that information is important?
That's where transcription comes into play. A lot of critical information gets lost in translation in the corporate world—and those lost moments could be costing your company money. Luckily, Microsoft Teams meetings may be transcribed so that all those moments are available for review at any time.
There are several benefits to transcribed corporate meetings: boosting productivity, enhancing call quality, and making employees more accountable for their actions, just to name a few!
Let's go more in-depth with these eight additional advantages of expert Microsoft transcription:
1. More Clarity From Meetings
Transcription services can help you evaluate meeting records to find growth opportunities. It's easy to miss essential meeting points when they're talked over one another or spoken too quickly. With expert transcription, you can read exactly what was said and when—no more missed points!
2. Serves As a Pro SEO Hack
Search engines can index your website's content more efficiently if you upload your Microsoft Teams meeting transcriptions. Transcripts keep your readers on the page longer (which boosts your quality score) and allow you to publish more data-rich keywords and phrases (which improves your page ranking). This enables potential customers to search and locate your company online faster.
3. Boosts Corporate Transparency
Transcripts increase corporate openness and accountability. When asked why corporations transcribe their meetings, over 70% said it promotes honesty and integrity. Thoroughly documenting your Microsoft Teams sessions shows consumers and stakeholders that you respect candor and transparency. It also aids in building a more confident work environment by encouraging individuals to speak out and share their thoughts during meetings.
4. Personalizes Employee Evaluations
Meeting transcripts can be used for staff evaluations. Transcripts provide an accurate record of employee performance during group meetings or one-on-one interviews, allowing for more personal, subjective appraisals. This will ultimately enable more meaningful and effective feedback sessions, making staff feel genuinely appreciated and heard.
5. Meets Legal & Industry Regulations
MS Teams transcripts help maintain industry compliance by providing a comprehensive record of what was said during meetings or interviews (and when). They give legal protections if something goes wrong later on by equipping your firm with a word-for-word record of what transpired, so nothing is misread or misunderstood.
6. Supports Accessible Workplaces
Transcribing Microsoft Teams discussions is one approach to make your firm more accessible to folks who can't speak or hear properly. It gives those with severe impairments, such as acute deafness or mobility loss, access to vital company information. This creates an inclusive workplace where everyone has equal job opportunities despite physical limitations.
7. Consumer Research You Can Trust
MS Teams transcriptions allow you to review discussions, find significant points and phrases, and generate more compelling content. This greatly improves sales and customer service because companies learn what clients really want. It helps businesses grow by showing them how to enhance their products and services based on real-time customer feedback.
8. Improves Company Archives
Transcriptions of your Microsoft Teams meetings assist in documenting and preserving corporate records. Compliance officers, supervisory counsels, and senior executives often refer to official transcripts of former client or colleague interactions at yearly board meetings. Also, a dedicated Microsoft Teams transcript of meetings folder will take up much less space on your local server than a collection of video files would.
How to Get Your Next Microsoft Teams Session Transcribed
Transcribing a Microsoft Teams meeting is simple using Amberscript. Follow these four steps to get started:
Record Your Microsoft Teams session
Upload the recording to Amberscript
Specify a language
Choose human or AI-powered transcription
And done! We'll handle it from here
Recording Teams meetings is simple! First things first: join or initiate a meeting. To record the session, you must be its organizer or a member of the same organization. If you're wondering how to record a Teams meeting, simply click "Start Recording" under "More Actions" (only one participant may record the session). Press "Stop Recording" when the meeting is finished, then wait for the file to render. The download link will be available in the chat or channel conversation once the recording has been processed. And that's how to record on Teams!
Next, upload your files to Amberscript's dashboard and pick the Microsoft Teams transcription style and language that best suit your needs (several languages are available, including English, Spanish, and French). Thanks to our language specialists being native speakers, they can write with the maximum degree of accuracy in "clean read," where the text is made more understandable, or "verbatim," where every word is copied precisely as it was uttered.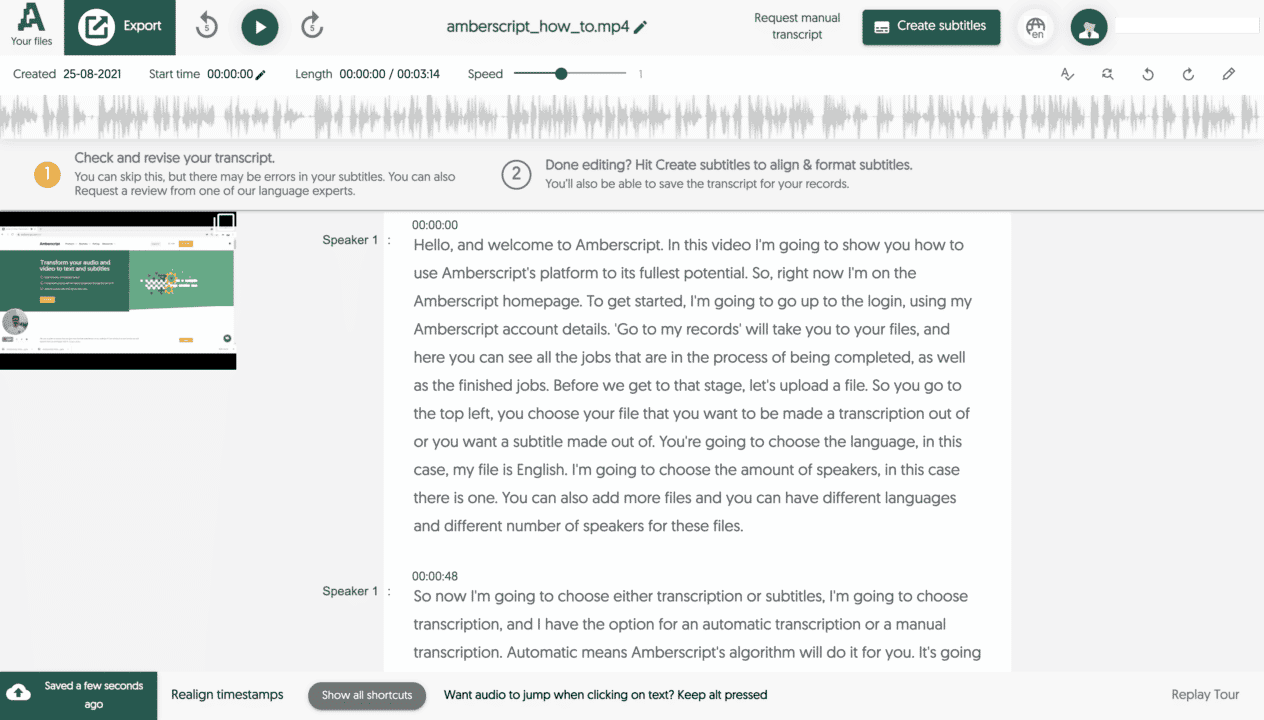 Automated: Our highly advanced voice recognition AI makes automated transcripts speedy and 90% accurate. In about 5 minutes, your transcript will be prepared, and you can use our online Transcript Editor to make any necessary changes.
Manual: Our human-powered transcripts, produced by skilled experts, are more accurate but take longer to complete—typically 12 hours from request to delivery. Although they cost more, this can be your best option if accuracy is your top priority.
Mission complete! You'll be able to download your expertly transcribed text in no time. It's just that simple!
Amberscript: Top-Notch Microsoft Teams Transcriptions
If you're looking for the highest-quality Microsoft Teams transcripts, Amberscript is here for you. We know that when a transcription service is done well, it can be a game-changer for your business—enabling you to gain insights into your meetings and make more informed decisions.
That's why, at Amberscript, we are committed to providing our clients with fast, reliable, and easy-to-read transcripts from top to bottom. Now you can spend your energy where it matters most: your company!
And the best part? Amberscript is free to try! Sign up today if you're ready to make the most of your MS Teams meetings.