Need to transcribe Skype calls but don't know how? If you're looking for professional, 100% accurate Skype transcripts, Amberscript has you covered. We make it easy to transcribe your calls and quickly get the high-quality documents you need.
In this post, we'll cover just how easy transcribing your Skype calls can be using Amberscript.
If you're not already familiar with Skype, it's a free video and voice messaging app that enables you to easily connect with family and friends around the world. You can call landlines and mobiles at low rates or chat with people on your contact list.
The service has become increasingly popular over the last decade, especially among students who want to talk to their parents while studying abroad.
Skype also has a number of features that make it favored among businesses: one-on-one video calls, group video conferences, screen sharing, file transfer, and more.
Simply put, a transcript is a written record of what was stated during a conversation or interview. It can be used for many intents, including business meetings, training sessions, academic research, legal proceedings, and more.
Often, it's necessary to transcribe a recording in order to have it read back in its entirety. This can be especially beneficial if you're working with someone who does not have access to the recording itself.
Additionally, transcripts are helpful for people who are hard of hearing or don't speak the language being spoken. It can also assist with time-keeping so that you know which speaker said what and when.
What Are the Benefits of Having Skype Calls Transcribed?
When it comes to business, there's a lot of information that can be lost in translation.
In a meeting, you might have heard something essential and not realized it. An employee may have expressed something that was important for you to know. A customer might have mentioned a problem that needs fixing—but only if you knew how to listen for it.
Fortunately, Skype conversations can be transcribed—and that means all those lost moments are still available for review!
Transcribing company meetings is a great way to improve productivity, raise call quality, and hold employees more accountable, just to name a few of the many advantages of having access to thorough records in the future.
Here are eight more ways that professional transcription can help make life easier:
Transcription services can help you evaluate meeting records to find growth opportunities. It's easy to miss essential meeting points when they're talked over one another or spoken too quickly. With expert transcription, you can read Transcription services can make it easy to review meeting recordings and identify areas for improvement and growth in the future. When you're going through your meeting recordings, it's easy to miss critical points when they're spoken over one another or at the same time as someone else. With professional transcription services, however, you'll be able to go back and read exactly what was said and when—so there will be no more missed opportunities!
2. Increasing Website SEO
Transcriptions can help your SEO by making it easier for search engines to index the content on your website. If your enterprise has an online presence (and who doesn't these days?), professional transcription services can help keep your readers on the page for longer (which raises your quality score) and also allow you to publish more keywords and phrases. Ultimately, this will help make sure that people who are looking for your business online can find it easily.
3. Fostering Corporate Transparency
Sharing transcripts is a great way to promote corporate transparency. In fact, when companies were asked about the benefits of having their meetings transcribed, nearly 70% of them said that it was because it publicized transparency. If you want to show your customers or stakeholders that you're a company that values honesty and openness, then having your meetings transcribed is a great way to do so. It will also aid you in developing a more open work environment by encouraging people to speak up and share their ideas during meetings.
4. Personalizing Employee Assessments
When you have your meetings transcribed, you can use the transcripts as part of an employee assessment process. Transcripts allow you to conduct more personal, subjective staff reviews by providing an accurate record of their performance during group meetings or one-on-one interviews. This will allow for more meaningful and productive feedback sessions—the kind that make employees feel valued and heard.
5. Compliance & Legal Precautions
Transcripts improve industry compliance because they provide a complete record of what was said during meetings or interviews, which means there's no question about what happened (and when). They also offer legal safeguards if something goes wrong later on down the line—you'll have an accurate word-for-word record of what happened at any point in time, so nothing gets misconstrued or misunderstood!
6. Promoting Workplace Accessibility
Making your company more accessible for those who can't speak clearly or hear well is vital to accessibility initiatives—and having chats on Skype transcribed by a third party is one way to accomplish this! It allows people with severe disabilities, like deafness or loss of mobility, access to the same crucial information as everyone else. This helps create a more inclusive workplace environment where everyone has equal opportunities at employment regardless of physical disadvantages.
7. Reliable Consumer Research
Skype transcriptions allow you to go back over conversations, identify key points and phrases that resonate with your audience, and then use that information to create content that meets their needs even more effectively. This helps improve sales and customer service because it gives businesses an understanding of what their clients need from them. It also helps businesses grow by providing insight into how they can improve their product or service offerings based on what people have responded best to.
Skype transcriptions help with record-keeping and maintaining efficient company archives. Official transcripts of past conversations with clients or colleagues remain accessible to compliance officers, overseeing counsels, and senior executives and are particularly helpful during important board meetings. Also, conveniently saving transcripts to the cloud or your home server requires far less storage space than video files.
How to Get Your Next Skype Session Transcribed
With Amberscript, transcribing a Skype call or meeting is straightforward. Here are the four steps you'll need to take to get started:
Record Your Skype session
Upload Skype meeting recording to Amberscript
Select a language
Choose human or AI-powered transcription
And finito! The rest is on us
To begin, start a Skype meeting and record it by clicking the button that says "More Options," and then click "Start Recording." You can stop, start, or pause the recording by using the buttons at the bottom of the screen. When you capture a Skype for Business meeting, you get everything, including sound, video, instant messaging (IM), slides, screen sharing, and whiteboard activity. Twenty-four hours is the maximum recording time. Longer calls may be broken up into more than one file. Your Skype call recording is downloadable for 30 days.
Next, upload your files to your Amberscript dashboard and select your preferred Skype subtitles or transcription style and language. There are many languages to choose from, such as English, Spanish, and French. Because our language specialists are native speakers, they can write with the highest degree of accuracy in either "clean read," where the text is made more intelligible, or "verbatim," where every word is transcribed precisely as it was pronounced.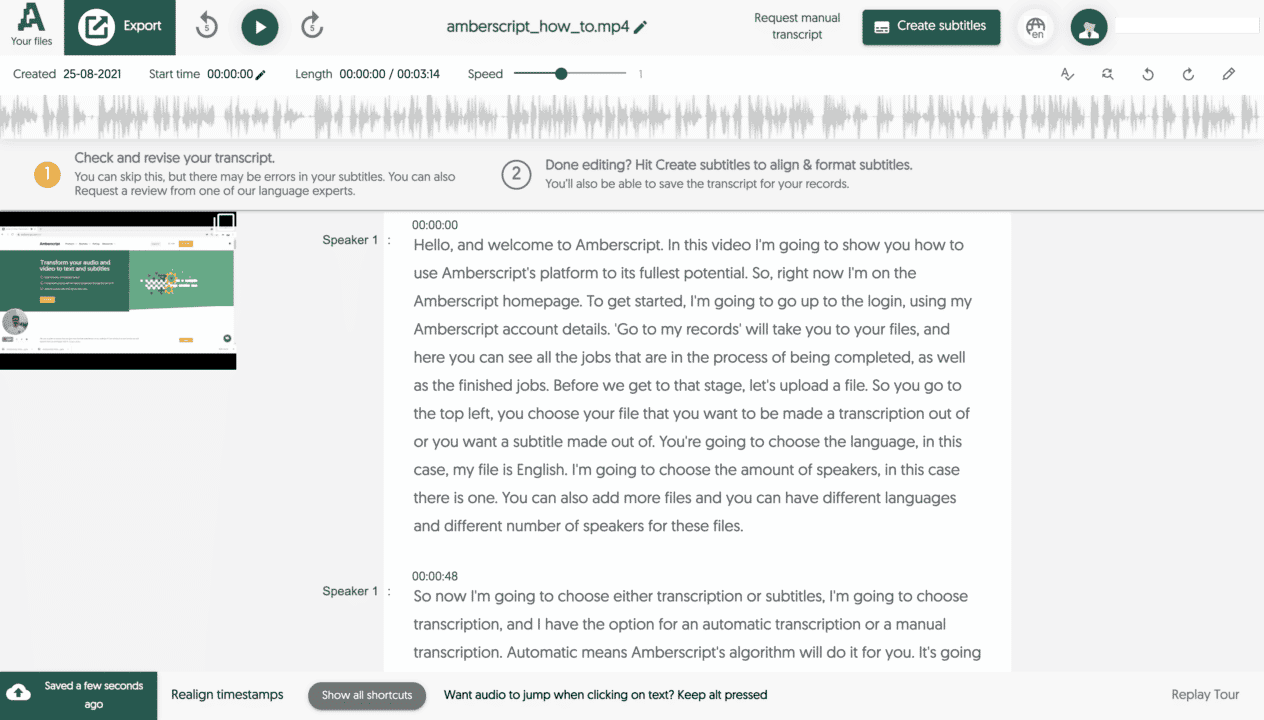 Automated: Automated transcripts are quick and 90% accurate, thanks to our cutting-edge speech recognition AI. Your transcript will be ready in about 5 minutes, and you can edit it online with our free Transcript Editor.
Manual: Accomplished by experienced professionals, our manual transcripts are more precise, but they take longer to complete—usually 12 hours from order to delivery. They're also slightly more expensive than automated transcripts, but if your job requires accuracy above all else, this might be the best option for you.
All done! In no time, you'll be able to download your professionally transcribed document. That's how easy it is!
Amberscript: Pro Skype Transcriptions by the Best
At Amberscript, we believe in the power of accurate transcripts. We know that when you're looking for a reliable and efficient transcription service, it's essential to work with a company that understands just how important your files are to you. That's why we've created a team committed to delivering accurate, timely, and affordable transcripts.
From processing to project completion, Amberscript is devoted to providing our customers with the best possible transcripts so you can get back to what's important—your business!
Try Amberscript for free! Sign up today, or get in touch with our team directly to learn more about how to maximize your Skype conversations.