Did you know that speech to text software can be a powerful ally for digital and content marketing? Transcribe focus group interviews, use youtube video transcript to improve SEO, and additional tips for content marketing optimization.
Top 5 Reasons to Use Automatic Transcription as a Marketer
1. Transcribe Focus Groups & Interviews
Marketers have to conduct interviews and focus groups on a frequent basis. Manual transcription takes a lot of time and is really not something that marketers should be doing. Instead, it's much easier to transcribe interviews automatically with online tools. By having the text version, you can get further insights into what was discussed and compile the information with ease. Later on, you can use your transcript for:
Research purposes
Increased publicity
We assume, that your recording is of decent quality with no major problems. And in case you're just about to record something, be sure to skim through our post on how to improve your audio quality and optimize the transcription of speech to text for some tips.
2. Add Subtitles to Promo Videos
Videos that have subtitles consistently outperform those that don't. Subtitles are not only for the deaf or hard of hearing but are proven to increase the engagement of the content as a large percentage of users, especially on Social Media, watch videos without the audio on.
There are many reasons for that, including:
Better accessibility
Easier to follow
Easy translation to foreign languages
You can use a transcription software to automatically transcribe your video files and generate a subtitle file.
There is no reason not to include subtitles in your videos, so give it a shot!
3. Add Transcripts to Audio and Video Content to Boost SEO
If you record podcasts, webinars, YouTube videos, and other audio-visual content to promote your services – it's vital to make it searchable. Search engines like Google can't crawl through your audio and video files directly, but they can crawl your text. Luckily, all you have to do is include a transcript as a description for your file and it's done!
4. Faster Content Creation through Voice Recognition
Writing content with your voice is extremely effective, compared to traditional typing. Just look at the figures – professionals type 70 words per minute on average, while we talk at a rate of 125 words per minute!
This means, that a 4000-word article would take you roughly 57 minutes typing with your keyboard and 32 minutes typing with your voice. Not to mention that typing on your keyboard so quickly is simply exhausting!
5. More Purposes for Your Content via transcription
Remember, we mentioned adding transcripts to your audios and videos. That's not all of it! Why don't you take the collection of text you've just transcribed and give it a 2nd life? What to do with it entirely depends on your needs and creativity, but here's what you can do with your transcripts:
Publish them as blog articles on your website
Make an ebook/ a whitepaper
Take out quotes and passages from individual transcripts and use them on social media
How can you automatically transcribe using Amberscript?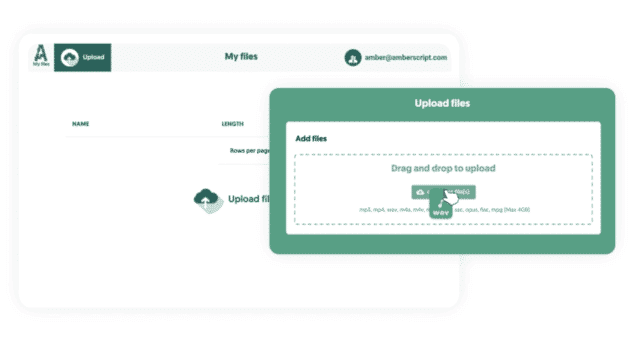 Upload
Upload your video and audio files onto out platform
Upload your video file. Our speech recognition software creates a first version of the subtitles for your video, which you can improve in our online editor for a 10x time-saving.
Start uploading now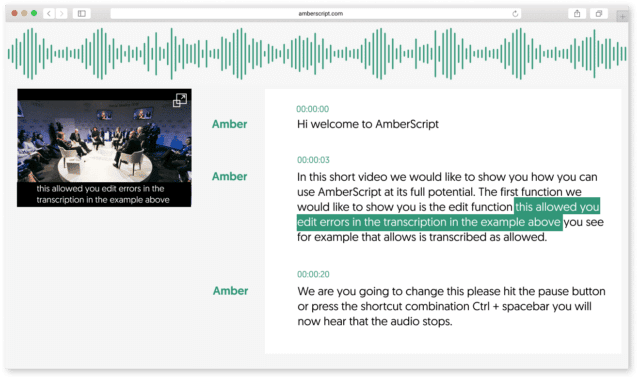 Edit
Edit your automatically generated transcriptions
We connect your audio to the text in our online editor where you can revise, highlight, and search through your text with ease. The editor includes a customizable speaker distinction and adjustable timestamps.
Automatic transcription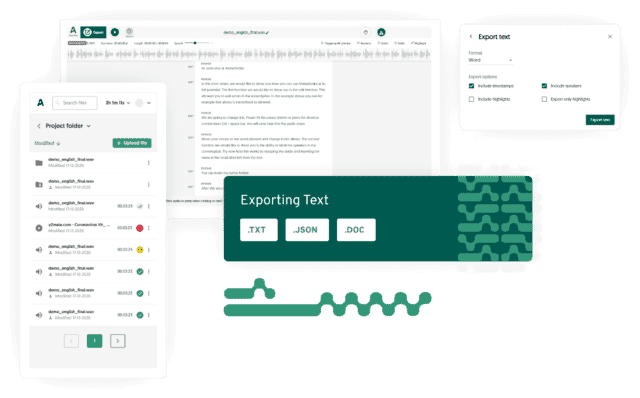 Export
Export your text
Quickly export your transcript in Word, JSON, Text, and many other formats, with optional timestamps and speaker distinction.
Request a quote
Frequently asked questions