What are closed captioning services?
Closed captioning services are providers that transform audio-to-text. Captions are shown at the bottom of the video, like subtitles, but are in the same language as the audio and also describe what audio is being played, for example: "there was a knock at the door".
Amberscript's closed captioning services include:
Video closed captioning services
Broadcast closed captioning services
Television and film closed captioning services
Marketing and advertising closed captioning services
Higher education closed captioning
Media production closed captioning
Closed captioning for governments
Why Use Closed Captioning Services?
Some people will watch your videos in crowded places or quiet places like libraries. These people can't raise the volume on the video, making it impossible for them to hear the audio. Closed captions services provide text at the bottom of the video. This text acts as word-for-word verbatim of the video, helping these viewers stay engaged. 
Closed captions also help your content rank better on SEO. Algorithms also need help with understanding your video without audio. Algorithms will pull into closed captions when deciding how to rank videos. They will look for keywords and other information to determine what your video covers.
Amberscript provides closed captioning services for individuals and companies worldwide. Our competitive pricing structure and quality service provide reliable closed captions at an affordable price.
What are Subtitles and Closed Captions?
Subtitles and closed captions are similar, making them easy to mix up. We offer services for subtitles and closed captions. Both show up as text at the bottom of a video.

Subtitles translate the video's language into the viewer's native tongue. Many Japanese anime shows come with subtitles for people who don't know Japanese. Subtitles provide the translation for character dialogue so viewers can still follow the story. Subtitles have various uses that extend beyond anime shows. What's even better is that, subtitles help businesses communicate with more customers and shatter the language barrier.

Closed captions help people follow the video even if they can't hear the audio. Viewers who are deaf or hard of hearing, read the closed captions to understand what is happening. Other people find themselves in environments where it's best to keep the volume off. These viewers will read the closed captions while watching the video to fully grasp the content.
Amberscript's Closed Captioning Process
Our closed captioning software generates closed captions for your videos. It saves you the time and pain of manually adding closed captions to your videos. Our intuitive editor helps you improve closed captions yourself. 
After uploading your video into our software, we provide the closed captions. You can easily search through the text to find what you want to edit. Amberscript will save you plenty of time while making it easy to review your closed captions.
Our software will save you time on editing. You can save even more time with our closed caption writers. After you upload your file, our expert writers do their magic. They will edit the closed captions for you. We conduct a quality check to ensure everything is smooth before delivering the closed captioned video. We then provide you with a file with optional timestamps and speaker distinction.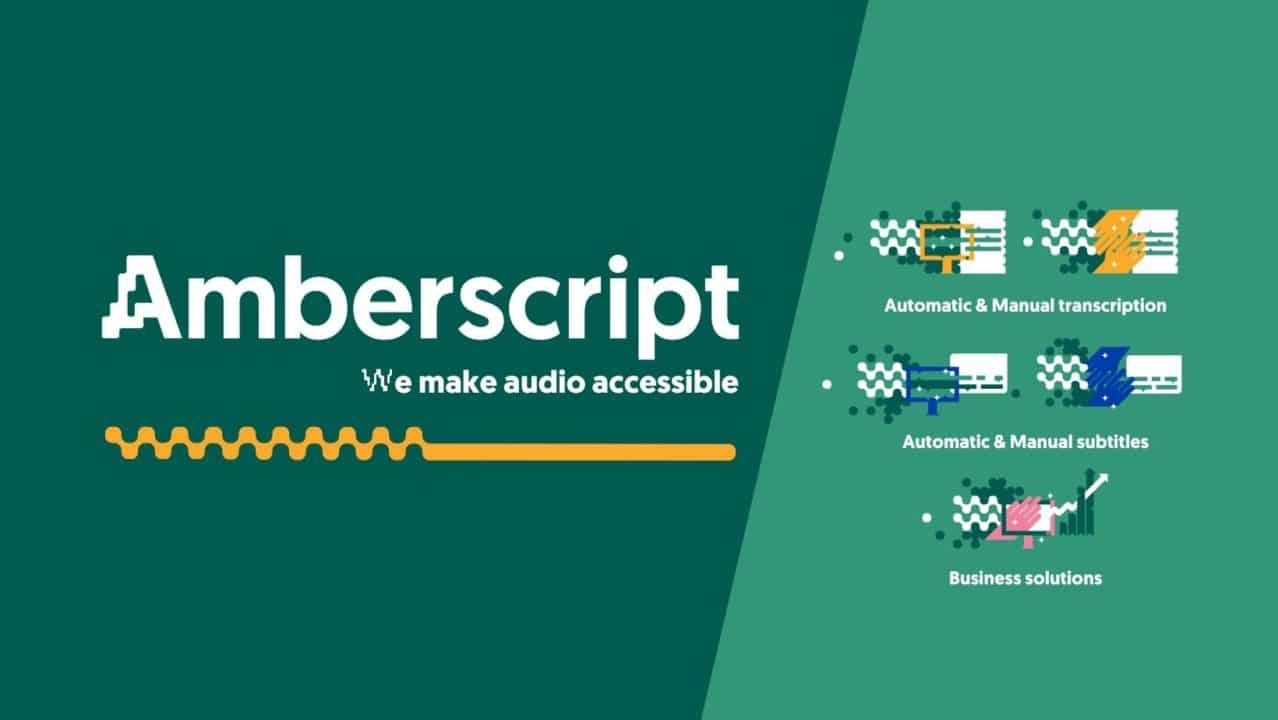 Video Caption File Formats
Amberscript delivers your video captions in multiple file formats. Our range of formats ensures your captions get provided based on format requirements.

.docx — Microsoft Word file format
.json – JavaScript Object Notation
.srt – SubRip Subtitle file
.vtt – Web Video Text Tracks
EBU-STL – European Broadcast Union subtitles
.txt – Plain text file
Benefits of Professional Captions Over AI
Amberscript lets customers choose between AI-generated and professional captions. You can either edit the captions yourself or hand off the responsibilities to one of our expert writers. AI makes our lives easier and provides quick captions. 

However, these captions are not perfect. They will come with errors, making it essential to review AI-generated captions. Some speakers talk too fast for a robot or use vocalizations the robot cannot understand. 
Errors can confuse viewers and cause them to click off your videos. The closed captions need to read like human sentences. AI provides the rubric, but you should not consider it as the final product.

Our language experts can edit the captions for you, creating that professional touch. We only hire native speakers who can create the highest accuracy texts for captions. Professional captions come at a quick turnaround. Instead of scheduling time to review and edit AI-generated captions, a language expert focuses on your closed captions until the job is finished.

Industries that Benefit from Closed Captions
Amberscript works with many individuals and corporations. We happily serve clients like Amazon, Netflix, and Disney+, providing them with accurate closed captions. Various industries use closed captions to improve their messaging and reach more people. Here are some of the industries and people we help.
Marketers create audio and video content to reach their customers. Not all of these customers can listen to the audio. Closed captions retain viewers by providing the text for the video at the bottom.
Converting video and audio content into text will enhance their SEO. Search engine optimization is a primary focus for many marketers and their clients. Closed captions help marketers, and their clients rank higher than the competition for their keywords.
Marketers can also use Amberscript to assist with their research. Market research involves many interviews and promotional videos. These long-form pieces of content can feel drawn out. Automatic transcriptions help marketers skip to the essential insights from these interviews and videos. Saving time on market research allows marketers to shift their attention to more productive activities.
Amberscript provides accurate closed captions in minutes. Your video content will become searchable across search engines, helping you attract new viewers. Our transcription services ensure you no longer waste time coordinating transcribers and video-loggers yourself. We do the closed captioning for you so you can focus on other tasks.
Our batch-upload functionality helps media and broadcasting personnel upload several videos simultaneously. This feature makes it easier to manage large volumes of video.
Filmmakers, YouTubers, and vloggers often get overwhelmed with deadlines. They have to stay on pace with their content and produce it at a reliable schedule. Adding closed captions to your videos helps your viewers understand the content. It also helps with search engine visibility.

However, some media producers forgo closed captions because they take too much time. They're already stressed about meeting their deadlines. Amberscript makes it easy to keep up with closed captions. We help creators save time and boost productivity. Our software helps them keep up with deadlines while providing their viewers with accurate closed captions.
Amberscript helps governments achieve affordable and accurate closed captions with our human transcribers. We have speech recognition models trained explicitly for political terminology. Our AI-generated closed captions are fully GDPR compliant and support 12 European languages. We have the largest transcriber network in Northern and Central Europe.

Closed captions allow citizens with hearing disabilities to fully grasp your videos. Our automatic first-draft transcripts get generated within minutes. These automated transcripts come with 90% accuracy. Our human service guarantees 99% accuracy and adherence to accessibility guidelines.

Universities and Education
Closed captions help universities reach broader audiences. They can cater to students with hearing disabilities and make their content more accessible. Our software can distinguish between speakers, making it easier to dissect interviews.
Universities deploy many resources to educate students. Amberscript gives them more affordable access to closed captions and subtitles. Our quick service and robust software help universities allocate more time and resources to other objectives.

Most transcribers need four hours to transcribe a single hour of audio. We do the transcribing in a few minutes instead of a few hours. You can either polish the closed captions through our editor or use our manual closed captioning services to cross the finish line.
Closed captions help various corporations and individuals reach broader audiences. Amberscript makes it easy for these entities to obtain accurate closed captions at an affordable price.