Automatically generate transcripts
Autogenerate transcripts from Spanish audio
Spanish automatic speech recognition saves hours of transcription time

Competitive pricing with the fastest turnaround through AI

Upload, search, edit, and export with ease
Try for free
Loved by over 2 million customers
The benefits of transcriptions are endless, from brand inclusivity to more accurate communication in the workplace, aligning your team, and keeping everyone focused on the same goal. Get automatic Spanish transcriptions today! 
---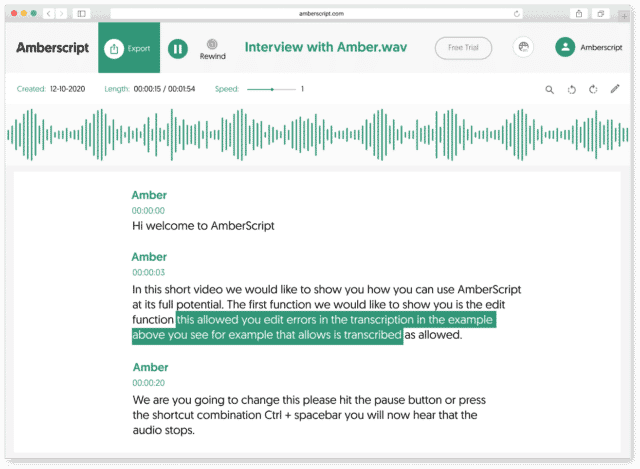 How to automatically generate Spanish transcripts:
1. Upload your video or audio file in Spanish. Select the number of speakers and the audio language. Sit back and relax while AI generates the transcript.
2. Edit your file. You'll receive your transcript text. Easily make any changes in our cloud-based editor.
3. Export your fileWhatever formats you need, we've got you covered. docx., .txt, .srt, .json, .vtt, or EBU.STL
Check out our
Trustpilot reviews
Excellent
Based on 376 reviews
Great tool for transcription
It's 80% accurate and II always recommend it to all of …
Maja Neumann
Exactly what I was looking for
I didn't know this site yet. I need to have …
Eddy
My honest opinion throughout the last…
My honest opinion throughout the last couple of weeks has …
Daniel Pott
Really helpful and easy to handle
The tool is really helpful and easy to understand. I …
Kathi
Automated transcriptions lighten my workload
As a researcher, I have been using Amberscript to transcribe …
John Siegel
Why you shouldn't transcribe your Spanish content yourself:
Businesses have been manually transcribing everything from content and research findings for far too long. Manual transcriptions are time-consuming, and because of human error, you cannot guarantee that the results will be accurate. Transcriptions can be tiring, precisely when they're extensive, raising the chances for mistakes and inaccuracies in the information.
ASR software, also known as automatic speech recognition, is changing the game regarding transcriptions. It's helping businesses cut costs and better utilize their team members, taking a lot of responsibility off the shoulders of those who already have a lot on their plates.
So what is ASR technology?
Automatic speech recognition allows users to talk instead of typing in text to create over 85% accurate transcriptions. This accuracy level leaves less for you to go back and fix manually, making it easier to communicate your message, whatever that message might be.
ASR software can take your business to the next level simply by allowing you to expand your reach. Suppose your analytics show that you have an overwhelming amount of website traffic coming from Mexico, for example. In that case, you'll want to seriously consider transcribing in Spanish, and finding someone to do this for you can become costly. In an instance like this, ASR software can save the day.
Getting started with automatic speech recognition transcriptions is easier than ever, so business leaders don't have to endure a seemingly daunting process before implementing transcriptions for their content. Instead of hiring a team to work on transcription projects, you can work with Amberscript, receiving your transcriptions quickly in various languages. It's free to start, so contact us for more information today!
Frequently Asked Questions