Get subtitles and transcripts with our audio to text converter
Easily transcribe audio to text with Amberscript. Our audio to text converters supports multiple audio and video file formats which you can use to create high quality subtitles and transcripts.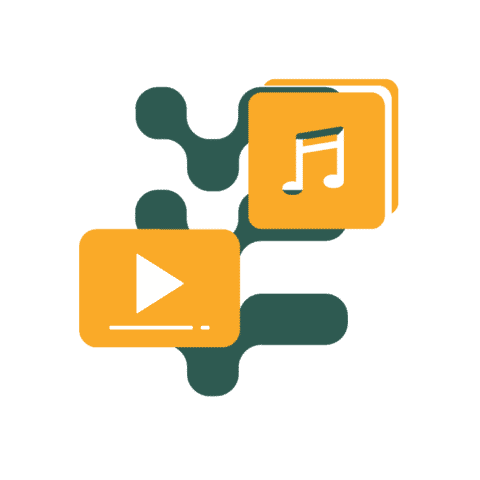 Find out which file formats we can transcribe audio to text
Get subtitle and transcripts using our audio to text converter!
With Amberscript, you can easily transcribe your audio to text from multiple file types. Our audio to text converter works to create transcripts and subtitles from any of the file formats mentioned below.
Convert audio/video file to text
Click on the supported file format for more information
List of the audio/video formats we support for transcription and subtitling:
---
Supported audio file formats
AAC

Advanced Audio Coding is a lossy digital audio compression format, which you can upload to the audio to text converter. Originally this file format was supposed to replace the MP3 format, as it offers higher sound quality at the same bit rate. Read more on how to convert AAC to text.

DSS

Digital Speech Standard developed in 1994 to store voice audio data in a highly compressed format. Used primarily for digital dictation recorders, thanks to basic recording functionality and the ability to enter into overwrite mode.

FLAC

Free Lossless Audio Codec is a lossless compression format of digital audio. Files compressed using this format can be reduced by 50 to 70 percent of their original size and contain an identical copy of the original audio data. More about converting FLAC to text here.
M4A

It's a MPEG-4 audio file encoded with AAC or ALAC (Apple Lossless Audio Codec). Most commonly used for audio content like songs, podcasts, or audiobooks. Convert the M4A file to text.

MP3
WAV

Waveform Audio File Format was developed by IBM and Microsoft and originally was used on Microsoft Windows systems for storing raw and uncompressed audio. Convert your WAV to text.
MV4

This is a video container format developed by Apple, and quite similar to the MP4 format. Originally used in iTunes Store, as such files may be protected by DRM. Learn how to convert MV4 to text here. 

MOV

QuickTime File Format that was originally used by QuickTime framework. It can contain multiple tracks, where each of them stores a different types of data: audio, video, or text. Learn how to convert MOV to text here. 
VOB

Video Object – container format for DVD-Video. Typically can be found on the DVD disc. It's based on MPEG format, but such files can be encrypted. Larger pieces of multimedia saved in VOB format are split into 1 GB files, to make sure all operating systems can read them.

WMA

Windows Media Audio was developed by Microsoft, which was a part of the Windows Media framework. Primarily used for encoding only audio files, as metadata may include song name, track number, and artist name. Today encoding video in this format is also possible. Convert your WMA to text.
How to transcribe audio to text
---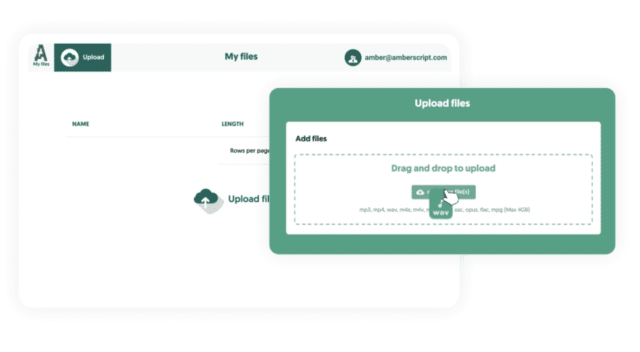 1. Upload your audio files
Create a free account and upload your audio file to Amberscript, this acts as your audio to text converter. Select the language of the audio and the number of speakers present. Our audio to text converter recognizes speech in 39 languages, and supports multiple file formats like MP3, AAC, WAV.
Try it free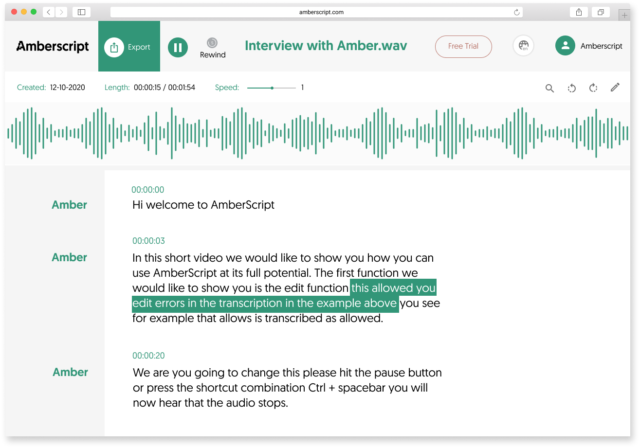 2a. Edit the text yourself
The automatic speech recognition (ASR) software listens to the audio and converts it to text. Depending on the files audio quality this will be up to 85% accurate, you can then perfect the text yourself using the easy to use online editor. Even better, you can highlight the most important parts, rename your speakers and adjust the timestamps. This is 5-10 times faster than listening to the audio and typing the text yourself.
Start now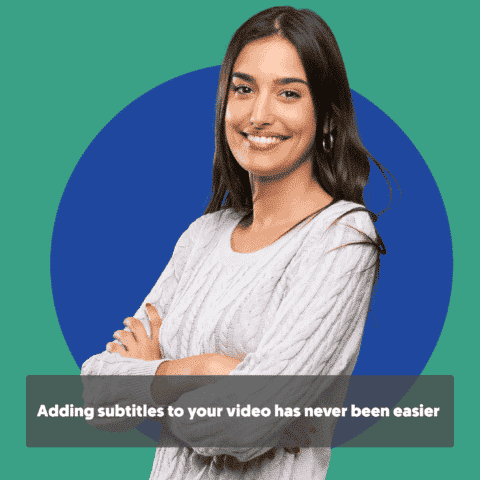 2b. Choose Human Made services
If you have a high volume of audio or simply do not have time to review the text yourself, order the Human made services and receive your files ready in a few days. This option grants you 100% accurate audio to text and is completely handled by our team of professionals. Rush order and translated subtitles are also possible.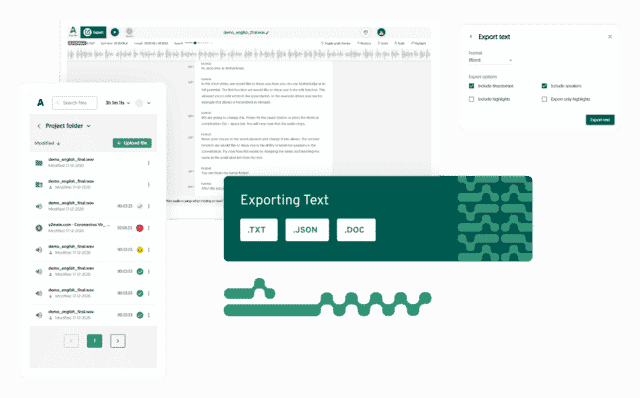 3. Export your audio/video file to your favourite text format
We support multiple text formats you can export and download your file in:
.docx – Microsoft Word file format

.json – JavaScript Object Notation

.srt – SubRip Subtitle file

.vtt – Web Video Text Tracks

EBU-STL – European Broadcast Union subtitles

.txt – Plain text file
Find out more
Converting audio or video with ease
Read more about how to convert audio or video file to text
Try it free
Make your audio accessible!
Convert audio to text
Automatically convert your audio to text using our high-end AI engines.
Read more
Make your video accessible!
Convert video to text
Let our highly talended language experts perfect your text.
Read more