Automatically generate transcripts
Autogenerate transcripts from Portuguese audio
Amberscript utilizes ASR (automatic speech recognition) software, an incredibly advanced way to detect Portuguese dialects and colloquialisms, ensuring you get the most accurate automatic transcriptions possible. It's the best way to eliminate transcription mistakes as you focus on expanding your brand and reaching more people with your content.
Try for free
Loved by over 2 million customers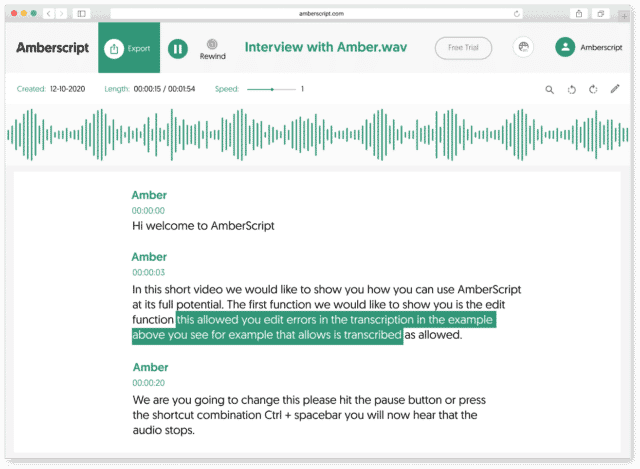 How to automatically generate Portuguese transcripts:
1. Upload your video or audio file in Portuguese. Select the number of speakers and the audio language. Sit back and relax while AI generates the transcript.
2. Edit your file. You'll receive your transcript text. Easily make any changes in our cloud-based editor.
3. Export your file Whatever formats you need, we've got you covered. docx., .txt, .srt, .json, .vtt, or EBU.STL
Check out our
Trustpilot reviews
Excellent
Based on 376 reviews
Great tool for transcription
It's 80% accurate and II always recommend it to all of …
Maja Neumann
Exactly what I was looking for
I didn't know this site yet. I need to have …
Eddy
My honest opinion throughout the last…
My honest opinion throughout the last couple of weeks has …
Daniel Pott
Really helpful and easy to handle
The tool is really helpful and easy to understand. I …
Kathi
Automated transcriptions lighten my workload
As a researcher, I have been using Amberscript to transcribe …
John Siegel
How does Amberscript help to create Portuguese transcripts?
Any business looking to increase their return on investment should take a much closer look at and consider implementing automatic transcriptions. However, no automatic transcription will work, and many automatic transcription options available today don't accurately transcribe the spoken word.
Amberscript is revolutionary because our automatic transcription services are incredibly accurate, offering our users peace of mind and far less manual labor. Long gone are the days of transcribing every word of your meeting minutes or video content by typing in your captions.
What are the benefits of transcripts?
Transcriptions are not only a fantastic way to make sure your messages come across clearly, drastically cutting down on miscommunications, but they also help to include specific demographics. People who are hard of hearing or deaf and those that don't speak your language can fully comprehend your message through the magic of exact transcriptions. Research teams also can quickly scan through large quantities of interviews to made deductions quickly.
Frequently Asked Questions