Automatically generate transcripts
Autogenerate transcripts from Nepali audio
Nepali automatic speech recognition saves you time on your transcription projects

Get transcripts that are high-quality and quick to edit

Upload, highlight key fragments and export with ease
Try for free
Loved by over 2 million customers
Amberscript is changing the face of business through ASR technology and accurate transcriptions. The options for outreach are endless when you can communicate effectively with different demographics. If you want to know more about our services, contact our team today!
---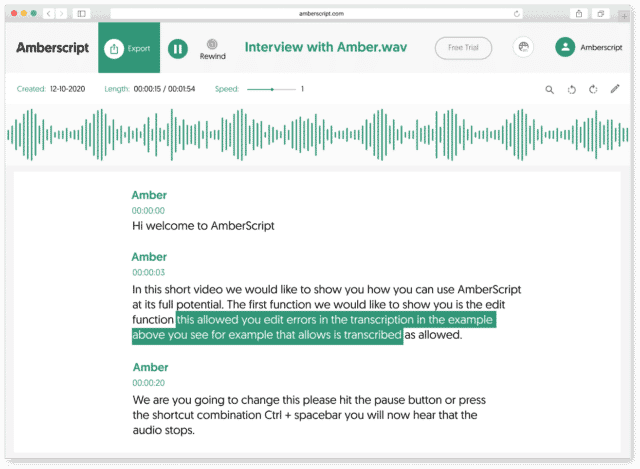 How to automatically generate Nepali transcripts:
1. Upload your video or audio file in Nepali. Select the number of speakers and the audio language. Sit back and relax while AI generates the transcript.
2. Edit your file. You'll receive your transcript text. Easily make any changes in our cloud-based editor.
3. Export your file Whatever formats you need, we've got you covered. docx., .txt, .srt, .json, .vtt, or EBU.STL
Check out our
Trustpilot reviews
Excellent
Based on 376 reviews
Great tool for transcription
It's 80% accurate and II always recommend it to all of …
Maja Neumann
Exactly what I was looking for
I didn't know this site yet. I need to have …
Eddy
My honest opinion throughout the last…
My honest opinion throughout the last couple of weeks has …
Daniel Pott
Really helpful and easy to handle
The tool is really helpful and easy to understand. I …
Kathi
Automated transcriptions lighten my workload
As a researcher, I have been using Amberscript to transcribe …
John Siegel
What is automatic speech recognition?
Automatic speech recognition is a form of artificial intelligence that works alongside humans, learning different dialects and accents (in this case, Nepali) to transform uploaded audio documents into text successfully.
Because ASR is grounded in artificial intelligence, it's constantly evolving and "learning" new things. AI learns from the mistakes it makes that humans correct to perform better over time.
Amberscript is proud to offer the best ASR software, ensuring that your Nepali-spoken transcripts are delivered with over 85% accuracy. What our ASR technology cannot decipher, our team of human transcribers can! We'll work with you to ensure that you have perfect transcriptions every time you use our service, offering support throughout the process. Or free to go in and edit the content yourself.
Automatic speech recognition software is changing how businesses and institutions interact with consumers, supporters, students, or employees. Automatic transcriptions cut costs and don't take up too much time. They make content widely comprehensive and widely available, opening up opportunities for so many people.
Why use Amberscript to autogenerate Nepalese transcripts?
Whether you need automatic transcriptions Nepali, French, Spanish, or Bulgarian (and many more), Amberscript can help. Our platform is straightforward to use, even for those business leaders that aren't too tech-savvy. All you have to do to use Amerscript is register, log into your account, and begin uploading your first audio file! From there, you can make necessary edits and save your document in whatever file form works for you.
Frequently Asked Questions