Automatically generate transcripts
Autogenerate transcripts from Lithuanian audio
Lithuanian automatic speech recognition saves you time on your transcription projects

Get transcripts that are high-quality and quick to edit

Upload, highlight key fragments and export with ease
Try for free
Loved by over 2 million customers
Creating transcripts from Lithuanian audio and video content has become much faster and far more efficient than the days of recording them manually. ASR technology (automatic speech recognition) has made leaps and bounds and transcribing Lithuanian content can now happen in minutes
---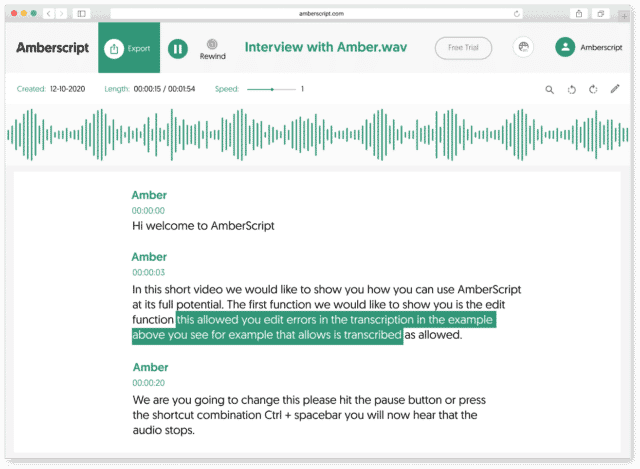 How to automatically generate Lithuanian transcripts:
1. Upload your video or audio file in Lithuanian. Select the number of speakers and the audio language. Sit back and relax while AI generates the transcript.
2. Edit your file. You'll receive your transcript text. Easily make any changes in our cloud-based editor.
3. Export your file. Whatever formats you need, we've got you covered. docx., .txt, .srt, .json, .vtt, or EBU.STL
Check out our
Trustpilot reviews
Excellent
Based on 376 reviews
Great tool for transcription
It's 80% accurate and II always recommend it to all of …
Maja Neumann
Exactly what I was looking for
I didn't know this site yet. I need to have …
Eddy
My honest opinion throughout the last…
My honest opinion throughout the last couple of weeks has …
Daniel Pott
Really helpful and easy to handle
The tool is really helpful and easy to understand. I …
Kathi
Automated transcriptions lighten my workload
As a researcher, I have been using Amberscript to transcribe …
John Siegel
What are the benefits of autogenerating transcripts in Lithuanian?
The mere fact that automatic speech recognition technology exists is incredible, but what it can do for your business makes it a standout option for enterprises and institutions everywhere to broaden their audiences and drive their messages home. 
Audio and video content transcriptions make it possible for businesses to expand on once-impossible levels, making the localization process easier, helping to repurpose content and making audio accessible.
There's no doubt that transcriptions can help your business see growth because you're widening your potential reach. Automatic transcriptions create a way to include people from around the world in your brand message without wasting too much precious time on transcribing it manually yourself.
Transcriptions are not only for businesses that hire global employees and share audio and video content on social media. Teachers and professors can benefit significantly from transcribing course materials, whether that course is online or in-person. Transcriptions provide the material for those who couldn't attend the lecture or could not hear spoken words and make a great study reference.
Amberscript is a transcription platform that helps millions of users reach a wider audience annually. It's easy to register, and you can upload and begin working on your first transcription for free.
Frequently Asked Questions