Automatically generate transcripts
Autogenerate transcripts from Japanese audio
Japanese automatic speech recognition saves you time on your transcription projects

Get Japanese transcripts that are high-quality and quick to edit

Upload, highlight key fragments and export with ease
Try for free
Loved by over 2 million customers
Transcribing Japanese audio content is now easier than ever with Amberscript. Our automatic speech recognition engine understands many Japanese accents and can help you to speed up the transcription process.
---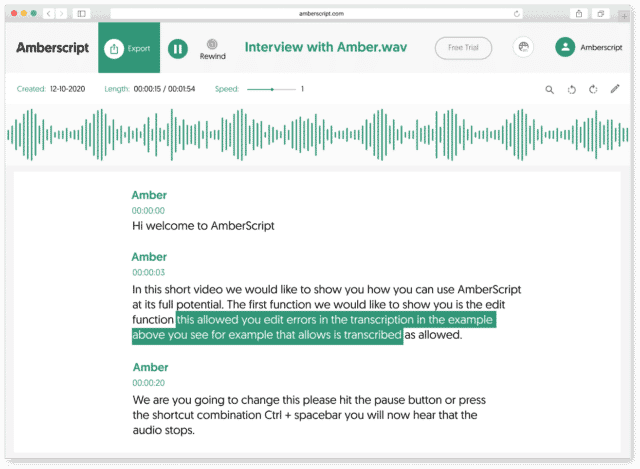 How to automatically generate Japanese transcripts:
1. Upload your video or audio file in Japanese. Select the number of speakers and the audio language. Sit back and relax while AI generates the transcript.
2. Edit your file. You'll receive your transcript text. Easily make any changes in our cloud-based editor.
3. Export your file Whatever formats you need, we've got you covered. docx., .txt, .srt, .json, .vtt, or EBU.STL
Check out our
Trustpilot reviews
Excellent
Based on 376 reviews
Great tool for transcription
It's 80% accurate and II always recommend it to all of …
Maja Neumann
Exactly what I was looking for
I didn't know this site yet. I need to have …
Eddy
My honest opinion throughout the last…
My honest opinion throughout the last couple of weeks has …
Daniel Pott
Really helpful and easy to handle
The tool is really helpful and easy to understand. I …
Kathi
Automated transcriptions lighten my workload
As a researcher, I have been using Amberscript to transcribe …
John Siegel
The many benefits of auotgenerating transcripts in Japanese:
Today, transcriptions have become more manageable. Technology and artificial intelligence have helped the automatic transcription industry growing fast, with Amberscript taking a spot at the helm.
Our ASR (automatic speech recognition) software is intelligent and able to detect different accents and dialects worldwide, making it easier to transcribe your Japanese audio and video content. Transcripts are necessary for many reasons, but the top ones are that they promote inclusivity and communication among every member of your audience.
As online business presences continue to soar, audiences are growing. Every time we post on social channels, we have an international audience that wants to interact with us, but they can't due to language barriers.
The deaf and hard of hearing community can't take in your content the way they'd prefer if your transcriptions aren't clear and concise. Platforms like Amberscript are long overdue, and we're changing how businesses interact with consumers, creators communicate with viewers, and professors communicate with students.
Communication is a crucial part of transcripts, but it's essential not to overlook the other benefits they offer, such as increased rankings on search engines, mainly if your video features targeted keywords. Transforming audio-to-text by yourself can be tricky, so why not automate it with an established, professional platform that makes the process as easy as possible for you?
Frequently Asked Questions