Automatically generate transcripts
Autogenerate transcripts from Italian audio
Italian automatic speech recognition saves hours of transcription time

Competitive pricing with the fastest turnaround through AI

Upload, search, edit, and export with ease
Try for free
Loved by over 2 million customers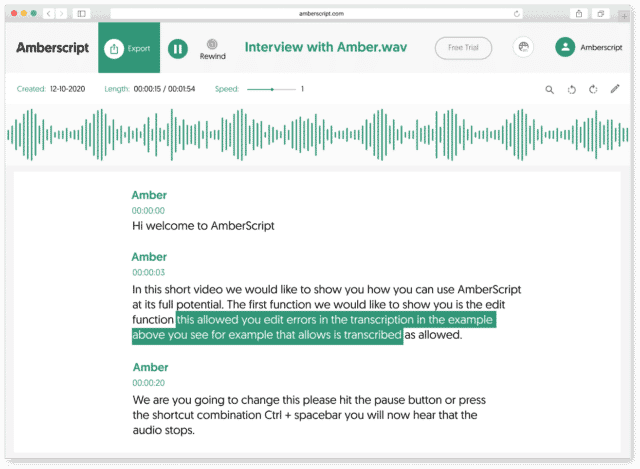 How to automatically generate Italian transcripts:
1. Upload your video or audio file in Italian. Select the number of speakers and the audio language. Sit back and relax while AI generates the transcript.
2. Edit your file.You'll receive your transcript text. Easily make any changes in our cloud-based editor.
3. Export your file Whatever formats you need, we've got you covered. docx., .txt, .srt, .json, .vtt, or EBU.STL
Check out our
Trustpilot reviews
Excellent
Based on 376 reviews
Great tool for transcription
It's 80% accurate and II always recommend it to all of …
Maja Neumann
Exactly what I was looking for
I didn't know this site yet. I need to have …
Eddy
My honest opinion throughout the last…
My honest opinion throughout the last couple of weeks has …
Daniel Pott
Really helpful and easy to handle
The tool is really helpful and easy to understand. I …
Kathi
Automated transcriptions lighten my workload
As a researcher, I have been using Amberscript to transcribe …
John Siegel
How do automatic Italian transcripts benefit businesses?
There are few products available today that provide businesses with accurate automatic Italian transcriptions that they can rely on to communicate effectively with employees, consumers, board members, and more! Amberscript is the best service for those interested in the world that opens up once you begin automating your transcriptions.
It's no secret that manually providing transcriptions for your meeting notes or video and audio content can be tedious. Not only does it increase costs, but it takes your employees away from areas where they're needed. Amberscript provides Italian transcriptions (and over 30 additional languages) to businesses that need to get their message across globally. 
Of course, we work for smaller businesses as well, and we're happy to help you begin transcribing your vital business documents in whichever language you choose. Regardless of your business size, millions of people require transcriptions to interact effectively with your content. 
How does Amberscript help creators make accessible content with automatic Italian transcripts?
Accessible content comes from high-quality transcriptions, and with our accurate ASR technology, you don't have to dedicate the time you don't have to create those transcriptions. Transcripts come with a myriad of benefits, including but not limited to accessibility for deaf or hard-of-hearing viewers, improved audience comprehension, increase video views, improved SEO and SERPs rankings, and flexible viewing in sound-sensitive environments, such as the train or workplace. 
Frequently Asked Questions