Automatically generate transcripts
Autogenerate transcripts from Indonesian audio
Automatic speech recognition saves hours of Indonesian transcription time

Competitive pricing with the fastest turnaround through AI

Upload, search, edit, and export with ease
Try for free
Loved by over 2 million customers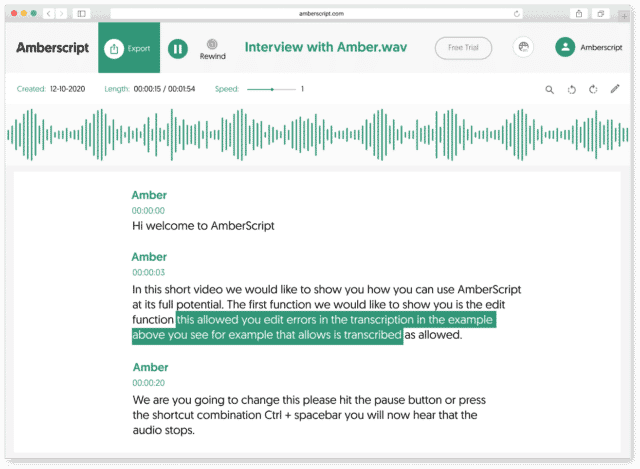 How to automatically generate Indonesian transcripts:
1. Upload your video or audio file in Indonesian. Select the number of speakers and the audio language. Sit back and relax while AI generates the transcript.
2. Edit your file. You'll receive your transcript text. Easily make any changes in our cloud-based editor.rn
3. Export your file Whatever formats you need, we've got you covered. docx., .txt, .srt, .json, .vtt, or EBU.STL
Check out our
Trustpilot reviews
Excellent
Based on 376 reviews
Great tool for transcription
It's 80% accurate and II always recommend it to all of …
Maja Neumann
Exactly what I was looking for
I didn't know this site yet. I need to have …
Eddy
My honest opinion throughout the last…
My honest opinion throughout the last couple of weeks has …
Daniel Pott
Really helpful and easy to handle
The tool is really helpful and easy to understand. I …
Kathi
Automated transcriptions lighten my workload
As a researcher, I have been using Amberscript to transcribe …
John Siegel
Regardless of how you use automated transcriptions, whether it be content aimed at consumers, educational workplace videos, or in a learning environment, transcriptions are all about cognitive reinforcement and inclusivity. Some people don't (or cannot) follow along with audio content well, and having access to written transcriptions is beyond beneficial.
What industries benefit from automatic transcriptions?
While automatic transcriptions are beneficial in many industries, they can be especially helpful to students in online learning situations. Video transcriptions create helpful learning aids because they can improve comprehension, so whether you're teaching a college course or showing your employees how to use a new program, automatic transcriptions can help you get your point across effectively. Everyone learns in different ways and at different paces. Sometimes, reading something can stick with a person longer than just hearing that information. 
How do Indonesian automatic transcriptions help people?
Users that do not encompass Indonesian as their first language benefit greatly from transcriptions. Also, automatic transcriptions do not count out users who do not speak Indonesian at all, as automatic speech recognition software can quickly and accurately turn audio into text to then be translated into languages such as Spanish, French, Arabic, or Indonesian. 
How does Amberscript help?
Every company, brand, and institution should utilize automatic transcriptions for their content, from educational settings to social influencers. Amberscript makes the process incredibly easy, completely eradicating the idea that transcriptions are a tedious step that business leaders, teachers, and content creators don't have time to complete.
If you're ready to start providing those who rely on your audio and video content with the automatic transcriptions that will help them comprehend the information, reach out to the team at Amberscript today. Transcriptions are an essential business investment, and we'll help you get started free of charge!
Frequently Asked Questions