Automatically generate transcripts
Autogenerate transcripts from Hindi audio
Hindi automatic speech recognition is 10x faster than transcribing content yourself

Get transcripts that are high-quality and quick to edit

Upload, highlight key fragments and export into multiple file formats
Try for free
Loved by over 2 million customers
With Amberscript creators, producers, researchers, and organisations turn Hindi audio to text quickly and accurately. Our automatic speech recognition engine understands over 39 languages and speed up your transcription process.
---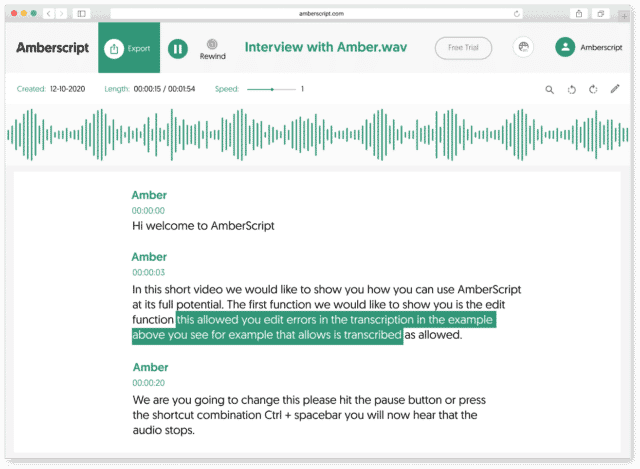 How to automatically generate Hindi transcripts:
1. Upload your video or audio file in Hindi. Select the number of speakers and the audio language. Sit back and relax while AI generates the transcript.
2. Edit your file. You'll receive your transcript text. Easily make any changes in our cloud-based editor.
3. Export your file Whatever formats you need, we've got you covered. docx., .txt, .srt, .json, .vtt, or EBU.STL
Check out our
Trustpilot reviews
Excellent
Based on 376 reviews
Great tool for transcription
It's 80% accurate and II always recommend it to all of …
Maja Neumann
Exactly what I was looking for
I didn't know this site yet. I need to have …
Eddy
My honest opinion throughout the last…
My honest opinion throughout the last couple of weeks has …
Daniel Pott
Really helpful and easy to handle
The tool is really helpful and easy to understand. I …
Kathi
Automated transcriptions lighten my workload
As a researcher, I have been using Amberscript to transcribe …
John Siegel
How automating the transcription process can help create faster, accurate and affordable transcripts
Creating transcriptions in Hindi and other languages has been notoriously tricky until now. Of course, if you have tried transcribing audio yourself, you've probably noticed that the process can be long, boring, and frustrating. 
Automating the process can be undeniably helpful, but only when done correctly. The whole point of automating tasks is to lighten your workload and do away with tedious, repetitive duties such as manually entering transcription information. To truly pull it off, you need access to ASR (automatic speech recognition) software that can identify various dialects and transcribe them into high quality transcripts.
In short, you need Amberscript.
Our technology is advanced, and we're currently transcribing for clients globally. Our artificial intelligence software is a step above the competition, providing incredible accuracy, which means less work for you during the editing process. Our transcriptions make it easy to search for keywords, so you can locate the information you want immediately.
There's no doubt that automatic transcriptions are an excellent component of sharing audio and video content, creating inclusivity and accessibility. Still, your automated transcripts must be employed correctly to avoid inaccurate information and confusion.
The ASR software via the Amberscript platform is the correct answer to various automatic transcript problems. Reach out to us today for more information, and learn how to get started for free!
Frequently Asked Questions