Automatically generate transcripts
Autogenerate transcripts from Greek audio
Amberscript offers one of the most accurate Greek automatic speech recognition (ASR) software platforms today, and we're thrilled to help millions of people reach new audiences and make their audio accessible. 
Try for free
Loved by over 2 million customers
Automatic transcriptions are necessary to level up your communication capabilities across the board, and Amberscript can help. Register for free today to try out our services, and get your first transcription today!
---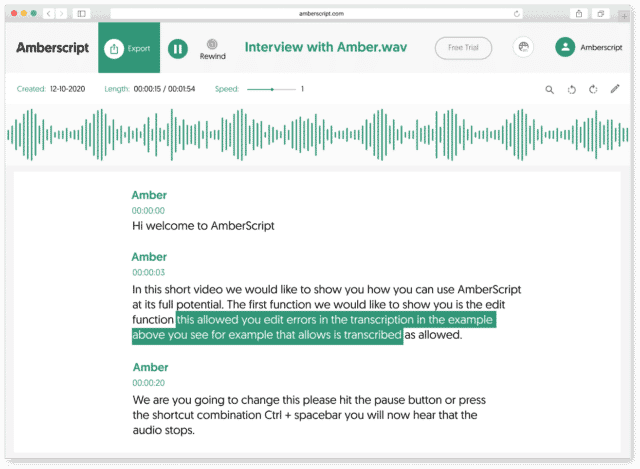 How to automatically generate Greek transcripts:
1. Upload your video or audio file in Greek. Select the number of speakers and the audio language. Sit back and relax while AI generates the transcript.
2. Edit your file. You'll receive your transcript text. Easily make any changes in our cloud-based editor.
3. Export your file Whatever formats you need, we've got you covered. docx., .txt, .srt, .json, .vtt, or EBU.STL
Check out our
Trustpilot reviews
Excellent
Based on 376 reviews
Great tool for transcription
It's 80% accurate and II always recommend it to all of …
Maja Neumann
Exactly what I was looking for
I didn't know this site yet. I need to have …
Eddy
My honest opinion throughout the last…
My honest opinion throughout the last couple of weeks has …
Daniel Pott
Really helpful and easy to handle
The tool is really helpful and easy to understand. I …
Kathi
Automated transcriptions lighten my workload
As a researcher, I have been using Amberscript to transcribe …
John Siegel
Why use automatic speech recognition to turn Greek audio into text?
Automatic transcriptions are relatively new, with most people using them to turn audio into text quickly. However, automatic transcriptions can work for much more, including academic research, employer-to-employee communications, and learning environments.
Automatic transcriptions make content accessible and inclusive. When done correctly, it can give your entire audience a comprehensive grasp of the message you want to send, whether your content is thirty seconds or three hours.
One of the best aspects of ASR technology is that it can help to make the localisation process of your content a lot easier, often a big pain point for organisations. Most people don't speak more than two languages, and many only know the language they speak natively.
The addition of a technology that opens up the ability to communicate to more people can potentially take businesses to new heights and expand learning opportunities across the globe. This is precisely what Amberscript aims to do.
Our technology is accurate, quick, and revolutionary. Those who utilize our services have their transcriptions in mere minutes, depending on the length, and immediate access to make adjustments and edits as soon as it's complete. The download process is a breeze, and we offer various formats so you can choose which one will work best for you.
Frequently Asked Questions