Automatically generate transcripts
Autogenerate transcripts from Finnish audio
Automatic speech recognition saves hours of transcription time

Competitive pricing with the fastest turnaround through AI

Upload, search, edit, and export with ease
Try for free
Loved by over 2 million customers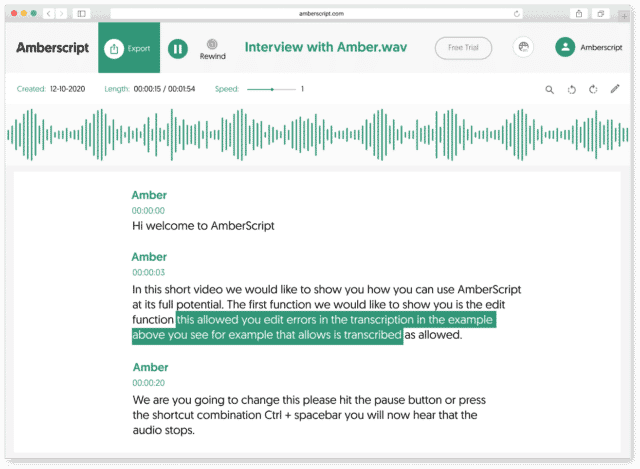 How to automatically generate Finnish transcripts:
1. Upload your video or audio file in Finnish. Select the number of speakers and the audio language. Sit back and relax while AI generates the transcript.
2. Edit your file. You'll receive your transcript text. Easily make any changes in our cloud-based editor.
3. Export your file Whatever formats you need, we've got you covered. docx., .txt, .srt, .json, .vtt, or EBU.STL
Check out our
Trustpilot reviews
Excellent
Based on 376 reviews
Great tool for transcription
It's 80% accurate and II always recommend it to all of …
Maja Neumann
Exactly what I was looking for
I didn't know this site yet. I need to have …
Eddy
My honest opinion throughout the last…
My honest opinion throughout the last couple of weeks has …
Daniel Pott
Really helpful and easy to handle
The tool is really helpful and easy to understand. I …
Kathi
Automated transcriptions lighten my workload
As a researcher, I have been using Amberscript to transcribe …
John Siegel
Frequently Asked Questions
What are the benefits of creating Finnish transcriptions?
Transcriptions are essential for many reasons, primarily regarding particular research projects and keeping communication records. Finnish Transcriptions can keep businesses running as they should be, and many companies rely on various types of notetaking, ranging from automatic transcriptions to handwritten documents. 
When it comes to research, transcriptions can put the collected data into a text-based format that makes it easier to analyze and share. More companies are relying on automatic speech recognition (ASR) to help them communicate information that pertains to their business with consumers, shareholders, and internal teams.
When dealing with any data, the level of accuracy is essential to the outcome of the project or analysis. Millions of people go through their daily lives needing transcriptions of some kind, whether it be due to hearing impairment, the inability to attend a meeting, or a language barrier.
Why use Amberscript to create automatic Finnish transcriptions?
Automatic transcriptions for meeting notes, company speeches and presentations, video or audio email content, and newsletters make it possible for companies to automate the most critical and time-consuming aspects of working in business today. The team at Amberscript understands how important it is to communicate effectively with your employees, teams, leaders, and consumers.
Our automatic transcriptions are available in various languages, and if you need Finnish automatic transcriptions, you're in the right spot. Modern businesses are built on finding common ground and communication, and it's impossible to achieve these aspects without ensuring everyone is on the same page.