Automatically generate transcripts
Autogenerate transcripts from Dutch audio
Automatic speech recognition saves hours of transcription time

Competitive pricing with the fastest turnaround through AI

Upload, search, edit, and export with ease
Try for free
Loved by over 2 million customers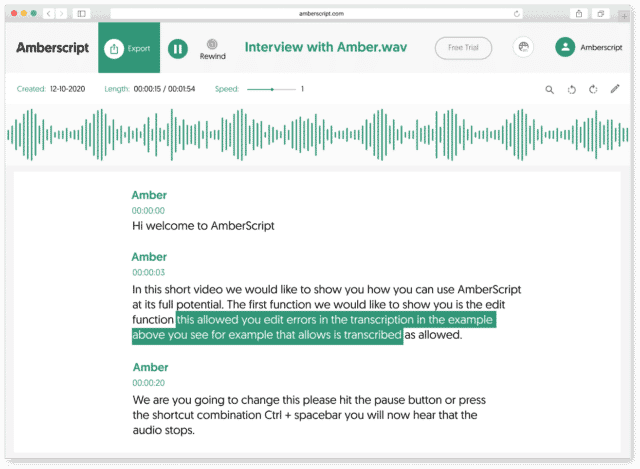 How to automatically generate Dutch transcripts:
1. Upload your video or audio file in Dutch. Select the number of speakers and the audio language. Sit back and relax while AI generates the transcript.
2. Edit your file.You'll receive your transcript text. Easily make any changes in our cloud-based editor
3. Export your file Whatever formats you need, we've got you covered. docx., .txt, .srt, .json, .vtt, or EBU.STL
Check out our
Trustpilot reviews
Excellent
Based on 376 reviews
Great tool for transcription
It's 80% accurate and II always recommend it to all of …
Maja Neumann
Exactly what I was looking for
I didn't know this site yet. I need to have …
Eddy
My honest opinion throughout the last…
My honest opinion throughout the last couple of weeks has …
Daniel Pott
Really helpful and easy to handle
The tool is really helpful and easy to understand. I …
Kathi
Automated transcriptions lighten my workload
As a researcher, I have been using Amberscript to transcribe …
John Siegel
Why use Automatic Speech Recognition to create transcripts in Dutch?
With automatic speech recognition (ASR), customers can simply upload their Dutch content and have it transformed into text, rather than tediously typing out transcripts from scratch in on a keypad or computer. Amberscript makes ASR available to our clients through our application and boasts an 85% accuracy rate, which means you won't have to go back and rectify mistakes in the online editor. 
ASR is changing the way businesses communicate with their consumers. It allowing global audiences to engage with more content than ever before making online content such as video and podcasts more accessible than ever.
How to transcripts benefit businesses?
It's vital never to underestimate how far ahead of the competition you can fall when you utilize top-notch communication tools that fuel your business growth on a global scale. Automatic transcriptions should be a consistent part of your business plan if you're operating online, creating content, and desire a worldwide reach on your digital assets. Transcripts also help your employees engage with meeting recordings and allow for a faster method of creating and documenting meeting minutes.
Frequently Asked Questions