Automatically generate transcripts
Autogenerate transcripts from Danish audio
Automatic speech recognition saves hours of transcription time

Competitive pricing with the fastest turnaround through AI

Upload, search, edit, and export with ease
Try for free
Loved by over 2 million customers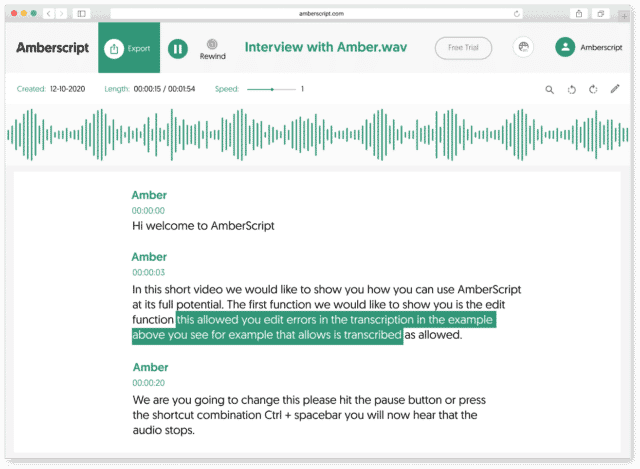 How to automatically generate Danish transcripts:
1. Upload your video or audio file in Danish. Select the number of speakers and the audio language. Sit back and relax while AI generates the transcript.
2. Edit your file. You'll receive your transcript text. Easily make any changes in our cloud-based editor.
3. Export your file. Whatever formats you need, we've got you covered. docx., .txt, .srt, .json, .vtt, or EBU.STL
Check out our
Trustpilot reviews
Excellent
Based on 376 reviews
Great tool for transcription
It's 80% accurate and II always recommend it to all of …
Maja Neumann
Exactly what I was looking for
I didn't know this site yet. I need to have …
Eddy
My honest opinion throughout the last…
My honest opinion throughout the last couple of weeks has …
Daniel Pott
Really helpful and easy to handle
The tool is really helpful and easy to understand. I …
Kathi
Automated transcriptions lighten my workload
As a researcher, I have been using Amberscript to transcribe …
John Siegel
Why use Amberscript to automatically create Danish transcripts?
Automatic Speech Recognition (ASR) software is revolutionary in that it breaks down language barriers and allows us to understand one another like never before. Businesses can expand their outreach extensively, gaining followers and customers where it once would have been impossible.
At Amberscript, we're thrilled to offer our clients the technology they need to connect to their Danish audience through the use of accurate auto transcription. As many who've dabbled in automatic Instagram or TikTok captions know, not all transcription technology was born equal. Ours is undeniably advanced, and offers you the opportunity to connect to your international demographic without miscommunications or misunderstandings.
Our ASR software is always evolving, learning to pick up new accents and effectively transcribe your words into whatever language you require, Danish included! Amberscript is incredibly easy to use, which makes the transcription process go from long and tedious to quick and efficient.
There's no denying that automatic transcriptions have become a necessary part of running a business that relies on content creation. From helping those who are hard of hearing to breaking down language barriers and embracing global inclusion, Amberscript is here to help your business take a massive leap forward regarding your outreach.
Frequently Asked Questions