Automatically generate transcripts
Autogenerate transcripts from Catalan audio
As a company, we're thrilled to provide access to accurate automatic transcriptions services in Catalan that cut costs while saving time, making your content accessible to all. 
Try for free
Loved by over 2 million customers
Transcriptions are a must-have when sharing modern content in any way, shape, or form. Transcriptions are essential when discussing how we share audio and video content, and they're no longer optional; instead, they've become a fantastic method for making content accessible to everyone.
---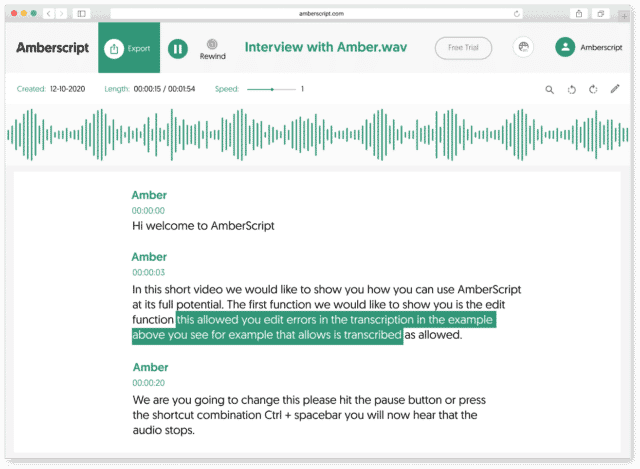 How to automatically generate Catalan transcripts:
1. Upload your video or audio file in Catalan. Select the number of speakers and the audio language. Sit back and relax while AI generates the transcript.
2. Edit your file. You'll receive your transcript text. Easily make any changes in our cloud-based editor.
3. Export your fileWhatever formats you need, we've got you covered. docx., .txt, .srt, .json, .vtt, or EBU.STL
Check out our
Trustpilot reviews
Excellent
Based on 376 reviews
Great tool for transcription
It's 80% accurate and II always recommend it to all of …
Maja Neumann
Exactly what I was looking for
I didn't know this site yet. I need to have …
Eddy
My honest opinion throughout the last…
My honest opinion throughout the last couple of weeks has …
Daniel Pott
Really helpful and easy to handle
The tool is really helpful and easy to understand. I …
Kathi
Automated transcriptions lighten my workload
As a researcher, I have been using Amberscript to transcribe …
John Siegel
Why use Automatic Speech Recognition to create transcripts in Catalan?
Transcriptions have a terrible reputation of taking forever to write up, primarily when done manually. Meanwhile, automatic transcriptions haven't gotten the best reputation either.
The software that many social channels use to create them is notoriously inaccurate, meaning your users have no idea what you're trying to convey if they're not listening to the sound. If your video is in a language they don't speak, and the transcriptions are incorrect, disaster may ensue. 
The software we utilize at Amberscript is automatic speech recognition (ASR) technology. We can transcribe Catalan (in most accents) and turn it into accurate transcripts. Automatic transcriptions include a breadth of possibilities, such as helping you transcribe your content in a wealth of langugaes.
Transcriptions boast plenty of benefits. These include compliance with legal requirements, content for environments that are not sound-friendly, increased video views, higher rankings in SERPS, easier translation into foreign languages, and more options for creating content specifically made for your audience. 
Amberscript works with millions of companies with a shared goal; creating accurate transcriptions for inclusivity and accessibility. Academic research, company-wide emails, and social channel content are standard creations among Amberscript clients. 
Frequently Asked Questions