Automatically generate transcripts
Autogenerate transcripts from Bulgarian audio
Bulgarian automatic speech recognition saves hours of time transcribing content by hand

Competitive pricing with the fastest turnaround through AI

Upload, edit, and export  your file in multiple formats
Try for free
Loved by over 2 million customers
Transcripts can help organizations of all sizes and individual creators enhance their content. Whether your transcripts are meant to for internal use or to share with the world, with Amberscript Automatic Speech Recognition software, you can create high-quality and affordable Bulgarian transcripts, fast!
---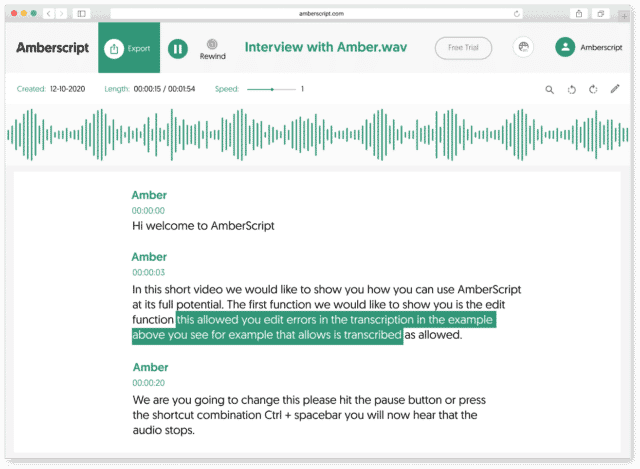 How to automatically generate Bulgarian transcripts:
1. Upload your video or audio file in Bulgarian. Select the number of speakers and the audio language. Sit back and relax while AI generates the transcript.
2. Edit your file.You'll receive your transcript text. Easily make any changes in our cloud-based editor.
3. Export your filernWhatever formats you need, we've got you covered. docx., .txt, .srt, .json, .vtt, or EBU.STL
Check out our
Trustpilot reviews
Excellent
Based on 376 reviews
Great tool for transcription
It's 80% accurate and II always recommend it to all of …
Maja Neumann
Exactly what I was looking for
I didn't know this site yet. I need to have …
Eddy
My honest opinion throughout the last…
My honest opinion throughout the last couple of weeks has …
Daniel Pott
Really helpful and easy to handle
The tool is really helpful and easy to understand. I …
Kathi
Automated transcriptions lighten my workload
As a researcher, I have been using Amberscript to transcribe …
John Siegel
How transcripts can enhance your Bulgarian audio content
Not only can automatic transcriptions and speech recognition software help companies connect and effectively communicate with their audiences and employees, but transcriptions also cater to people that consume content in environments that aren't entirely sound-friendly.
Public places such as the bus, train, subway, airplanes, and waiting rooms typically frown upon viewing content at a high volume, especially when those around you are attempting to watch their devices as well. The breakroom at work, office settings, and zoom calls are not sound-friendly environments, so video and audio with closed captions and transcriptions can be incredibly effective in such situations.
When transcripts are included with your content your viewers can watch videos and listen to your audio presentations wherever they happen to find themselves at the time. From a student who needs to watch a video lecture on a crowded train to the parent that wants to enjoy reels and social content while their little one naps, transcriptions are now a part of how we present our media.
If you want to enhance your content, Amberscript can quickly and easily help you get started with transcriptions and closed captions, with dozens of different languages available. Register today and get started for free!
Frequently Asked Questions