Automatically generate subtitles
Autogenerate subtitles in Ukrainian
Easily get Ukrainian subtitles using our Automatic Speech Recognition (ASR) software. More than 30 million people speak Ukrainian worldwide, with the majority of these people, as expected, living in Ukraine itself.The language has some 20 dialects. The Amberscript ASR can detect the majority of Ukrainian dialects and colloquialisms.
Try for free
Loved by over a million customers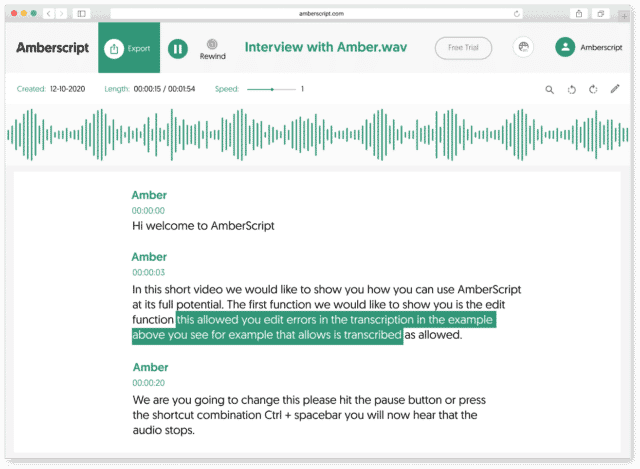 How to automatically generate Ukrainian subtitles:
1. Upload your video in Ukrainian Upload your video. Select the number of speakers and the audio language. Sit back and relax while AI generates the subtitles.
2. Edit your subtitle file You'll receive your subtitle text. Easily make any changes in our cloud-based editor.
3. Export in multiple formats Whatever formats you need, we've got you covered. docx., .txt, .srt, .json, .vtt, or EBU.STL
Check out our
Trustpilot reviews
Excellent
Based on 376 reviews
Great tool for transcription
It's 80% accurate and II always recommend it to all of …
Maja Neumann
Exactly what I was looking for
I didn't know this site, this software. I need to …
Eddy
My honest opinion throughout the last…
My honest opinion throughout the last couple of weeks has …
Daniel Pott
Really helpful and easy to handle
The tool is really helpful and easy to understand. I …
Kathi
Automated transcriptions lighten my workload
As a researcher, I have been using Amberscript to transcribe …
John Siegel
Frequently Asked Questions
What is ASR and how does it work to make subtitles?
Automatic Speech Recognition, or ASR, refers to the use of artificial intelligence or machine learning to transform human speech into readable text, often subtitles.
ASR has been through various forms since its first iteration in the 1950s. In the modern age, the most advanced versions are built using Natural Language Processing, which involves training computers to understand and contextualize language.
ASR can be used as a substitute for tedious manual transcribing, saving people endless amounts of time. It differs from standard voice recognition, where the software will process what a person has said and perform an action because the end result arrives in written format.
The advancement of ASR technology has accelerated exponentially over recent years, driven by the emergence of accessible and affordable cloud computing.
Online services such as Amberscript can transcribe files in a fraction of the time it would take a human to do it manually, with the prime use case being to add subtitles to a video or audio file.
Subtitles are particularly useful in the age of social media video and help boost the engagement of your content. They're also invaluable for those who are deaf or hard of hearing and are an easy way to create accessible videos.