Automatically generate subtitles
Autogenerate subtitles in Norwegian
Easily get Norwegian subtitles using our Automatic Speech Recognition (ASR) software. Norwegian has 5 million native speakers.It is also one of the easiest languages to learn by native English speakers. The dialect is divided into four major groups: Northern Norwegian, Eastern Norwegian, Western Norwegian, and Central Norwegian. The ASR can detect Norwegian dialects and colloquialisms and create accurate subtitles.
Try for free
Loved by over a million customers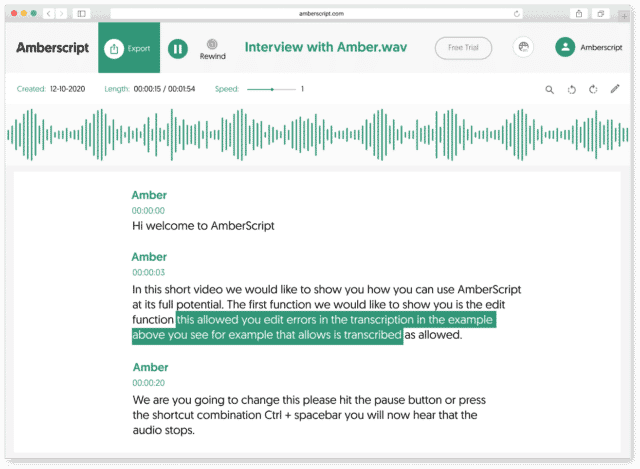 How to automatically generate Norwegian subtitles:
1. Upload your video in NorwegianUpload your video. Select the number of speakers and the audio language. Sit back and relax while AI generates the subtitles.
2. Edit your subtitle fileYou'll receive your subtitle text. Easily make any changes in our cloud-based editor.
3. Export in multiple formatsWhatever formats you need, we've got you covered. docx., .txt, .srt, .json, .vtt, or EBU.STL
Check out our
Trustpilot reviews
Excellent
Based on 376 reviews
Great tool for transcription
It's 80% accurate and II always recommend it to all of …
Maja Neumann
Exactly what I was looking for
I didn't know this site, this software. I need to …
Eddy
My honest opinion throughout the last…
My honest opinion throughout the last couple of weeks has …
Daniel Pott
Really helpful and easy to handle
The tool is really helpful and easy to understand. I …
Kathi
Automated transcriptions lighten my workload
As a researcher, I have been using Amberscript to transcribe …
John Siegel
Frequently Asked Questions
What is ASR?
Automated Speech Recognition (ASR) is a modern technology that enables you to speak to a computer interface in your voice and in a way that resembles a normal human conversation. The computer recognises the audio and take specific actions, such as turning the audio to text.
How can you benefit from subtitles?
Subtitles help with dialogue comprehension, especially in cases where speech is quick and has a lot of mumbling, accents, or background noise. They also make it easier for non-native Norwegian speakers to follow along with the speech without much struggle. Subtitles are a simpler way to capture and maintain engagement and concentration. Thus a better experience for viewers of all backgrounds and challenges.