Automatically generate subtitles
Autogenerate subtitles in Korean
Easily get Korean subtitles using our Automatic Speech Recognition (ASR) software. The Korean language is the national language of South Korea, North Korea, and two jurisdictions in China. It's estimated that there are more than 82 million native Korean speakers worldwide. For non-native speakers, Korean has quickly become one of the most popular Asian languages to learn. Our ASR can detect many Korean dialects and colloquialisms.
Try for free
Loved by over a million customers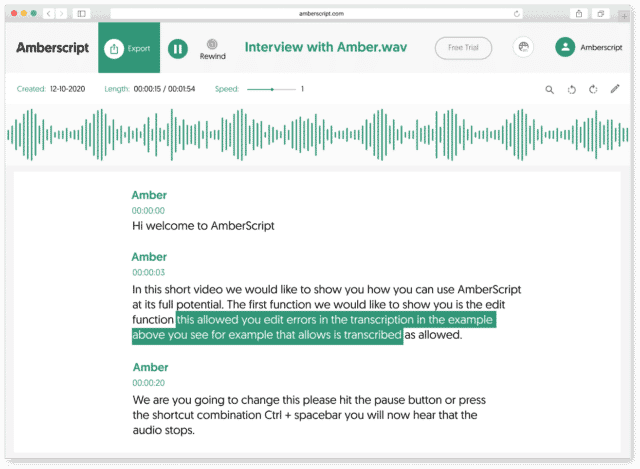 How to automatically generate Korean subtitles:
1. Upload your video in Korean Upload your video. Select the number of speakers and the audio language. Sit back and relax while AI generates the subtitles.
2. Edit your subtitle file You'll receive your subtitle text. Easily make any changes in our cloud-based editor.
3. Export in multiple formats Whatever formats you need, we've got you covered. docx., .txt, .srt, .json, .vtt, or EBU.STL
Check out our
Trustpilot reviews
Excellent
Based on 376 reviews
Great tool for transcription
It's 80% accurate and II always recommend it to all of …
Maja Neumann
Exactly what I was looking for
I didn't know this site, this software. I need to …
Eddy
My honest opinion throughout the last…
My honest opinion throughout the last couple of weeks has …
Daniel Pott
Really helpful and easy to handle
The tool is really helpful and easy to understand. I …
Kathi
Automated transcriptions lighten my workload
As a researcher, I have been using Amberscript to transcribe …
John Siegel
Frequently Asked Questions
The automatic transcription of the human voice into text is known as automatic speech recognition (ASR). ASRs with more complexity incorporates NLP capabilities.
The NLP records conversations in real-time. NLP processes transactions using artificial intelligence.
The ambiance, the speaker volume, and the transcription technology impact ASR accuracy.
After uploading an audio or video file, the ASR program recognizes the voice and records every word it hears in a wave file.
The software then optimizes the level and cleans the wave file to eliminate background noise. The program divides the filtered wave and subjects the wave to a series of analyses.
ASR then employs statistical probability to polish the entire text and finish any unfinished sentences.
Your viewers can watch movies even in noisy settings if you provide subtitles. By explaining technical terms and acronyms, subtitles improve understanding.
By producing visual stimuli, subtitles also improve knowledge retention in your audience. The audience can follow along better because of the visual stimulation.
Once more, if your audience does not speak Korean natively, the visual stimulus aids in language improvement. Subtitles improve your audience's ability to understand the video information.