Automatically generate subtitles
Autogenerate subtitles in Italian
Easily get Italian subtitles using our Automatic Speech Recognition (ASR) software. Italian it's the mother tongue of over 80 million people worldwide. Although there are various dialects, the main version is the Tuscan dialect.The Amberscript ASR can detect many Italian dialects and colloquialisms.
Try for free
Loved by over a million customers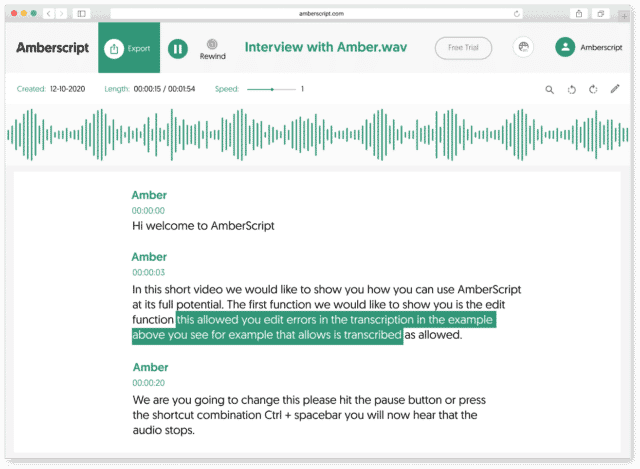 How to automatically generate Italian subtitles:
1. Upload your video in ItalianUpload your video. Select the number of speakers and the audio language. Sit back and relax while AI generates the subtitles.
2. Edit your subtitle fileYou'll receive your subtitle text. Easily make any changes in our cloud-based editor.
3. Export in multiple formatsWhatever formats you need, we've got you covered. docx., .txt, .srt, .json, .vtt, or EBU.STL
Check out our
Trustpilot reviews
Excellent
Based on 376 reviews
Great tool for transcription
It's 80% accurate and II always recommend it to all of …
Maja Neumann
Exactly what I was looking for
I didn't know this site, this software. I need to …
Eddy
My honest opinion throughout the last…
My honest opinion throughout the last couple of weeks has …
Daniel Pott
Really helpful and easy to handle
The tool is really helpful and easy to understand. I …
Kathi
Automated transcriptions lighten my workload
As a researcher, I have been using Amberscript to transcribe …
John Siegel
Frequently Asked Questions
Why use ASR to create Italian subtitles?
ASR or "automated speech recognition" is a technology that takes in human speech and converts it into text. Although it's been around since the early 1950s, it's made massive strides in accuracy and speed thanks to advances in the techniques. If you've ever tried transcribing words yourself, then you know it can be tedious and time-consuming.
However, ASR can do it much faster and makes it easier to apply subtitles and closed captions to videos, documentaries, TV shows, and more. There are many benefits that come along with combining the two.
– It makes your videos more accessible: If someone has difficulty hearing or is deaf, subtitles and CC helps them enjoy and comprehend what's being said without actually needing to listen.

–It makes things clear for the viewer: Let's face it– sometimes words get lost or are spoken too fast to catch. Subtitles and CC make things clear for the viewer.

– It helps with learning the language: If you're new to a language like Italian, having the subtitles makes it easier to parse out each individual word.

– It assists in converting to other languages: Subtitles and CC in the native language can be translated seamlessly to another language.