Automatically generate subtitles
Autogenerate subtitles in Hungarian
Easily get Hungarian subtitles using our Automatic Speech Recognition (ASR) software. The Hungarian language is spoken natively in Hungary, Slovakia, Romania, and Yugoslavia. There are about 13 million Hungarian speakers worldwide, and 9.7 million speak the language domestically in Hungary. The Amberscript ASR can detect a wide range of Hungarian dialects.
Try for free
Loved by over a million customers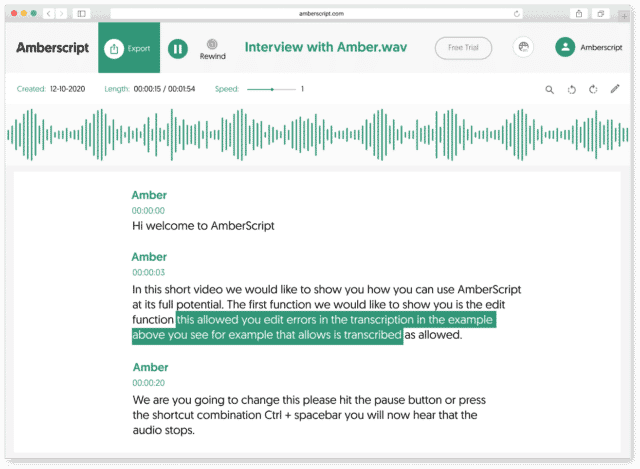 How to automatically generate Hungarian subtitles:
1. Upload your video in Hungarian Upload your video. Select the number of speakers and the audio language. Sit back and relax while AI generates the subtitles.
2. Edit your subtitle file You'll receive your subtitle text. Easily make any changes in our cloud-based editor.
3. Export in multiple formats Whatever formats you need, we've got you covered. docx., .txt, .srt, .json, .vtt, or EBU.STL
Check out our
Trustpilot reviews
Excellent
Based on 376 reviews
Great tool for transcription
It's 80% accurate and II always recommend it to all of …
Maja Neumann
Exactly what I was looking for
I didn't know this site, this software. I need to …
Eddy
My honest opinion throughout the last…
My honest opinion throughout the last couple of weeks has …
Daniel Pott
Really helpful and easy to handle
The tool is really helpful and easy to understand. I …
Kathi
Automated transcriptions lighten my workload
As a researcher, I have been using Amberscript to transcribe …
John Siegel
Frequently Asked Questions
Benefits of Automatic Speech Recognition & Subtitles
With Amberscript by your side, you can effortlessly add subtitles and closed captions to your videos, films, and shows. The term Automatic Speech Recognition refers to a technology that converts spoken language to text without the need for human intervention. The subtitles and closed captions play a crucial role in helping viewers understand and comprehend what is being shown on the screen.
There are numerous reasons why it's a fantastic tool to use, aside from making your videos more accessible to deaf and hearing-impaired viewers. Subtitles and closed captions help people get a better understanding of what's being said, which is particularly useful in technical fields with jargon or when trying to figure out a person's name or even a difficult accent or language.
A great benefit is that it's also helpful for those who wish to learn another language because they can follow along and hear what's being said. Furthermore, if your business operates internationally, it helps to convert your audio into text in order to translate it into other languages.
ASR is an extremely powerful technique for conveying the meaning of speech through text and it simplifies the process of adding subtitles and closed captions to your content.