Automatically generate subtitles
Autogenerate subtitles in Hebrew
Easily get Hebrew subtitles using our Automatic Speech Recognition (ASR) software. Hebrew is a Semitic language spoken by 9 million people across the globe. The majority of Hebrew speakers are in Israel with 60% of Israeli Arabs and 90% of Israeli Jews speaking the language. The ASR can detect many Hebrew dialects such as Modern Hebrew and Ashkenazi Hebrew. ASR can help those who speak Hebrew to access more digital content.
Try for free
Loved by over a million customers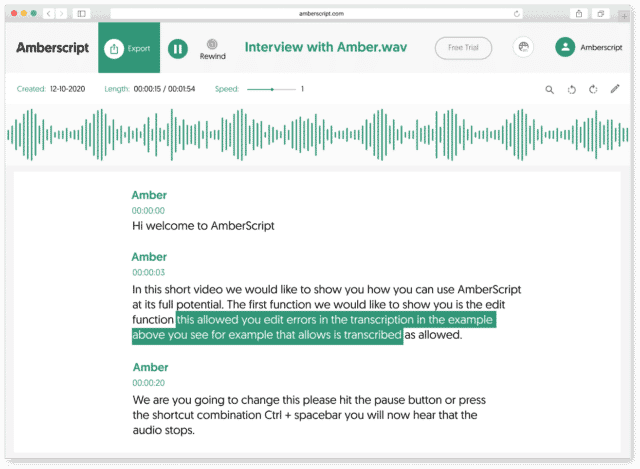 How to automatically generate Hebrew subtitles:
1. Upload your video in Hebrew Upload your video. Select the number of speakers and the audio language. Sit back and relax while AI generates the subtitles.
2. Edit your subtitle file You'll receive your subtitle text. Easily make any changes in our cloud-based editor.
3. Export in multiple formatsWhatever formats you need, we've got you covered. docx., .txt, .srt, .json, .vtt, or EBU.STL
Check out our
Trustpilot reviews
Excellent
Based on 376 reviews
Great tool for transcription
It's 80% accurate and II always recommend it to all of …
Maja Neumann
Exactly what I was looking for
I didn't know this site, this software. I need to …
Eddy
My honest opinion throughout the last…
My honest opinion throughout the last couple of weeks has …
Daniel Pott
Really helpful and easy to handle
The tool is really helpful and easy to understand. I …
Kathi
Automated transcriptions lighten my workload
As a researcher, I have been using Amberscript to transcribe …
John Siegel
Frequently Asked Questions
Automatic speech recognition (ASR) is an artificially intelligent software that uses an algorithm to accurately create text from speech. It uses the same process as speech recognition tools with the addition of analysis to make sense of the speech input.
ASR not only recognizes when a person is speaking and what they're saying, but it also intelligently analyzes the speech and determines the natural sequence of words based on the likelihood of those words being spoken in a particular order.
Using ASR to generate captions and subtitles makes digital content available to a wider audience by increasing user accessibility. People who were otherwise unable to experience and enjoy certain types of content now have the opportunity, thereby increasing user engagement. It adds clarity, improves comprehension, and promotes inclusivity to a wide range of users.