Automatically generate subtitles
Autogenerate subtitles in Finnish
Easily get Finnish subtitles using our Automatic Speech Recognition (ASR) software.
There are approximately five million people who speak Finnish. Most Finnish speakers live in Finland, though some live in Sweden, Estonia, Norway, Russia and North America.The ASR can detect many Finnish dialects and colloquialisms. Enjoy our automatic Finnish subtitles today with our fast, safe, secure ASR software.
Try for free
Loved by over a million customers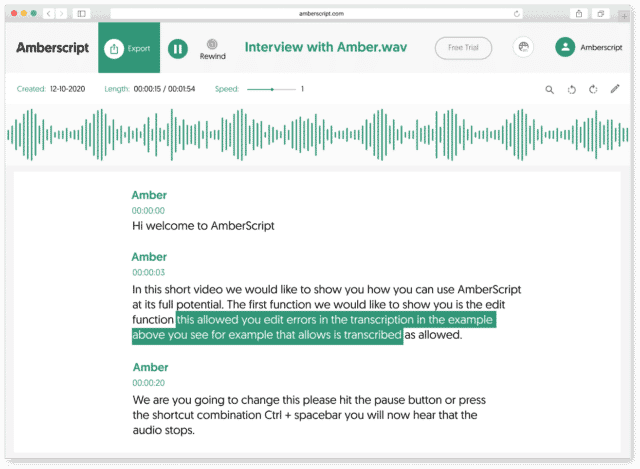 How to automatically generate Finnish subtitles:
1. Upload your video in Finnish Upload your video. Select the number of speakers and the audio language. Sit back and relax while AI generates the subtitles.
2. Edit your subtitle file You'll receive your subtitle text. Easily make any changes in our cloud-based editor.
3. Export in multiple formats Whatever formats you need, we've got you covered. docx., .txt, .srt, .json, .vtt, or EBU.STL
Check out our
Trustpilot reviews
Excellent
Based on 376 reviews
Great tool for transcription
It's 80% accurate and II always recommend it to all of …
Maja Neumann
Exactly what I was looking for
I didn't know this site, this software. I need to …
Eddy
My honest opinion throughout the last…
My honest opinion throughout the last couple of weeks has …
Daniel Pott
Really helpful and easy to handle
The tool is really helpful and easy to understand. I …
Kathi
Automated transcriptions lighten my workload
As a researcher, I have been using Amberscript to transcribe …
John Siegel
Frequently Asked Questions
ASR is a modern technology that processes human speech and converts it into text. It can capture speech from a single person or a conversation between a group of people. You can use it in various industries to record and track conversations.
Below are some of the key reasons why you should invest in subtitles.
Most people speak fast, and such conversations may be hard to follow. This is even worse when they are in a foreign language with an unfamiliar accent. Subtitles provide simple ways to get the words without necessarily delaying the process.
How often have you replayed a movie scene or video because a word's meaning was unclear or felt wrong? Subtitles provide viewers with more clarity to videos involving technical language, abbreviations, or specific difficult names.
Helps Improve Language Skills
Watching videos with the same language subtitles provides more inclusive access to your audience. This is because reading letters and listening to sounds simultaneously improve their decoding skills and fluency.