Automatically generate subtitles
Autogenerate subtitles in English
Easily get English subtitles using our Automatic Speech Recognition (ASR) software. The ASR can detect many English dialects and colloquialisms including; British English, American English, Canadian English, and Australian English.
Try for free
Loved by over a million customers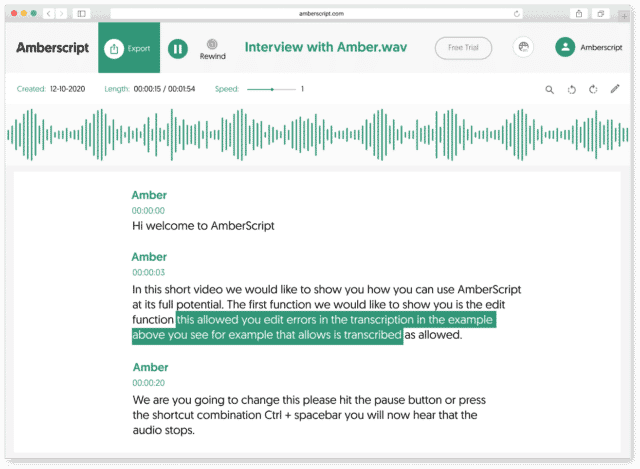 How to automatically generate English subtitles:
1. Upload your video in EnglishUpload your video. Select the number of speakers and the audio language. Sit back and relax while AI generates the subtitles
2. Edit your subtitle fileYou'll receive your subtitle text. Easily make any changes in our cloud-based editor.
3. Export in multiple formatsWhatever formats you need, we've got you covered. docx., .txt, .srt, .json, .vtt, or EBU.STL
Check out our
Trustpilot reviews
Excellent
Based on 376 reviews
Great tool for transcription
It's 80% accurate and II always recommend it to all of …
Maja Neumann
Exactly what I was looking for
I didn't know this site, this software. I need to …
Eddy
My honest opinion throughout the last…
My honest opinion throughout the last couple of weeks has …
Daniel Pott
Really helpful and easy to handle
The tool is really helpful and easy to understand. I …
Kathi
Automated transcriptions lighten my workload
As a researcher, I have been using Amberscript to transcribe …
John Siegel
Frequently Asked Questions
How Automatic Speech Recognition (ASR) works to create English subtitles
Automatic speech recognition technology processes human speech and converts it into text.
Advanced ASR technologies understand the nuances of real conversations. Using machine learning to process conversations, they can provide highly accurate transcriptions of videos, speeches, and other materials. ASR tools are an excellent way of automatically adding subtitles to your videos!
Subtitles help creators connect with much wider audiences. For a start, they allow users to watch a video without needing sound. More importantly, though, subtitles make content accessible for people that are deaf or hard of hearing. Plus, they make it easier for non-native speakers or learners to comprehend the content in front of them.
Media agencies and broadcasters are using ASR to comply with FCC regulations for all of their produced content. Higher education facilities have also discovered the power of subtitles for providing captions and transcriptions for their classes and lectures.
Automating this process helps organizations save time and money, whilst allowing them to connect more closely with a wider audience.