Automatically generate subtitles
Autogenerate subtitles in Dutch
Easily get Dutch subtitles using our Automatic Speech Recognition (ASR) software. With over 11 million Dutch speakers, the ASR can detect many Dutch dialects and colloquialisms. The Dutch language has most speakers in Belgium and the Netherlands, where it is an official language. Other speakers of this language are in Suriname and the Dutch Antilles. Upload your video files today for accurate automatic Dutch subtitles in the format of your choice.
Try for free
Loved by over 2 million customers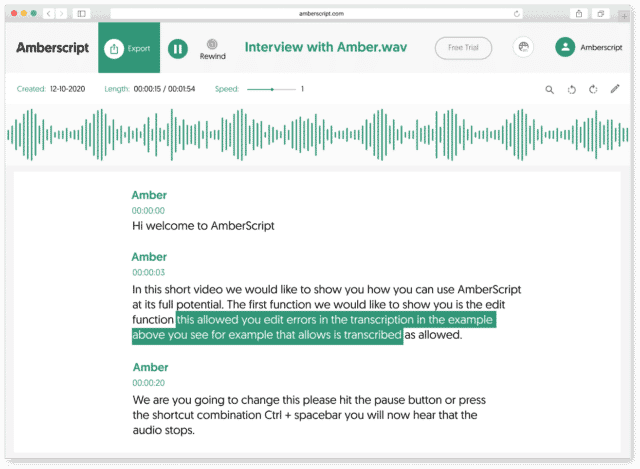 How to automatically generate Dutch subtitles:
1. Upload your video in Dutch Upload your video. Select the number of speakers and the audio language. Sit back and relax while AI generates the subtitles.
2. Edit your subtitle file You'll receive your subtitle text. Easily make any changes in our cloud-based editor.
3. Export in multiple formats Whatever formats you need, we've got you covered. docx., .txt, .srt, .json, .vtt, or EBU.STL
Check out our
Trustpilot reviews
Excellent
Based on 376 reviews
Great tool for transcription
It's 80% accurate and II always recommend it to all of …
Maja Neumann
Exactly what I was looking for
I didn't know this site, this software. I need to …
Eddy
My honest opinion throughout the last…
My honest opinion throughout the last couple of weeks has …
Daniel Pott
Really helpful and easy to handle
The tool is really helpful and easy to understand. I …
Kathi
Automated transcriptions lighten my workload
As a researcher, I have been using Amberscript to transcribe …
John Siegel
Frequently Asked Questions
ASR involves using Artificial Intelligence(AI) or machine learning to process human speech and convert it to text readable by humans.
The immense advancements in this technology have led to its wide use for different purposes in various fields. For example, it is used by video platforms for captioning, media monitoring, and virtual meeting platforms like Zoom.
What Are The Benefits Of Subtitles?
Below are the top reasons you need to invest in subtitles for your videos.
Subtitles make it very easy to watch video content in sound-sensitive areas. Such areas include libraries, public spaces, offices, and even hospitals.
Longer Concentration Spans
Subtitles have proven to maintain more prolonged concentration spans, especially for viewers that struggle to remain attentive for long periods. Subtitles give them a better experience, meaning they can always get the most out of your content.
If you need your videos translated later, having subtitles serves as a precursor to the process. They will help you to work much faster, thus saving on time and costs.