Automatically generate subtitles
Autogenerate subtitles in Danish
Easily get Danish subtitles using our Automatic Speech Recognition (ASR) software. Derived from Old Norse, this Scandinavian language is spoken in Denmark and the Faroe Islands by roughly six million people. And thanks to their common roots, people that speak Swedish and Norwegian can easily understand it, too. The ASR can detect many Danish dialects and colloquialisms.
Try for free
Loved by over a million customers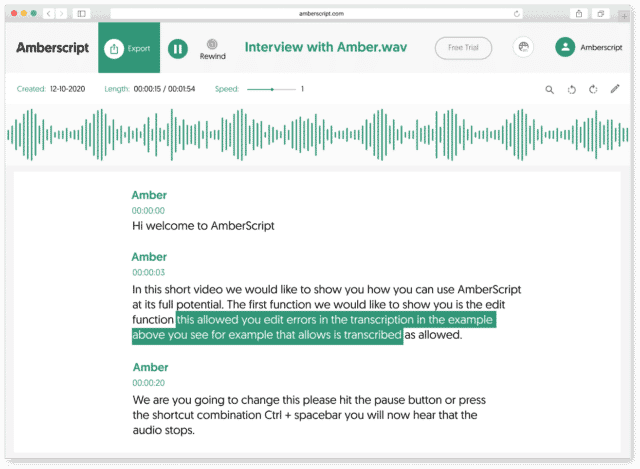 How to automatically generate Danish subtitles:
1. Upload your video in Danish Upload your video. Select the number of speakers and the audio language. Sit back and relax while AI generates the subtitles.
2. Edit your subtitle file You'll receive your subtitle text. Easily make any changes in our cloud-based editor.
3. Export in multiple formats Whatever formats you need, we've got you covered. docx., .txt, .srt, .json, .vtt, or EBU.STL
Check out our
Trustpilot reviews
Excellent
Based on 376 reviews
Great tool for transcription
It's 80% accurate and II always recommend it to all of …
Maja Neumann
Exactly what I was looking for
I didn't know this site, this software. I need to …
Eddy
My honest opinion throughout the last…
My honest opinion throughout the last couple of weeks has …
Daniel Pott
Really helpful and easy to handle
The tool is really helpful and easy to understand. I …
Kathi
Automated transcriptions lighten my workload
As a researcher, I have been using Amberscript to transcribe …
John Siegel
Frequently Asked Questions
Why choose Automatic Speech Recognition for the Danish language?
Creating and translating captions is extremely time consuming, and we know that busy people like you just don't have the time to manually transcribe subtitles for your videos in multiple languages.
Placing subtitles in Danish on your videos allows your audience reach to expand, and your content to become multi-use.
Your viewers will gain multiple benefits from having Danish subtitles on your content. Danish audiences will be able to access your material and engage with your content. And Danish subtitles will allow you to expand your business reach to Scandinavia, improving brand recognition and preference. Subtitles also make your content accessible to those that are deaf or hard of hearing, or who may not be native Danish speakers.
With our AI automatic subtitle generator, we take the pain out of the process. Our technology can instantly and accurately recognize speech and create subtitles that can easily be exported.
So if you're ready to make your content accessible, see how our ASR can help you today!