Automatically generate subtitles
Autogenerate subtitles in Catalan
Easily get Catalan subtitles using our Automatic Speech Recognition (ASR) software. Catalan is such a unique language spoken in Europe. Spoken in the Catalonian and Valencian regions of Spain, Balearic Islands, Andorra, the French region of Pyrenees-Orientales, and the Italian city of Alghero, it takes influence from French, Italian, and Castilian Spanish to create its own unique language. There are currently over 9 million Catalan speakers worldwide that use one of six known dialects. The ASR can detect Catalan dialects and colloquialisms.
Try for free
Loved by over a million customers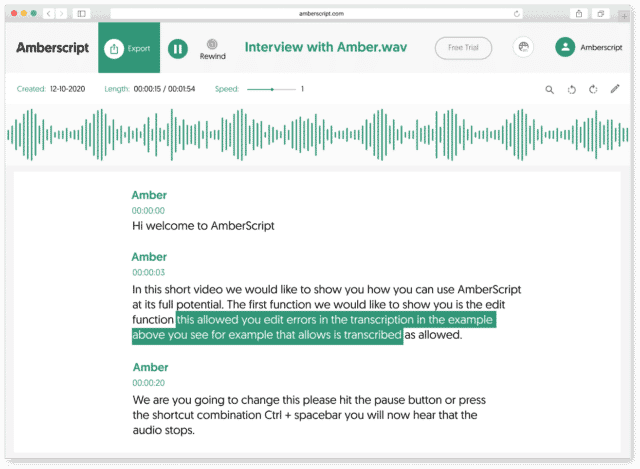 How to automatically generate Catalan subtitles:
1. Upload your video in Catalan Upload your video. Select the number of speakers and the audio language. Sit back and relax while AI generates the subtitles.
2. Edit your subtitle file You'll receive your subtitle text. Easily make any changes in our cloud-based editor.
3. Export in multiple formats Whatever formats you need, we've got you covered. docx., .txt, .srt, .json, .vtt, or EBU.STL
Check out our
Trustpilot reviews
Excellent
Based on 376 reviews
Great tool for transcription
It's 80% accurate and II always recommend it to all of …
Maja Neumann
Exactly what I was looking for
I didn't know this site, this software. I need to …
Eddy
My honest opinion throughout the last…
My honest opinion throughout the last couple of weeks has …
Daniel Pott
Really helpful and easy to handle
The tool is really helpful and easy to understand. I …
Kathi
Automated transcriptions lighten my workload
As a researcher, I have been using Amberscript to transcribe …
John Siegel
Frequently Asked Questions
Why choose automatic speech recognition for your Catalan content?
Automatic speech recognition allows your audience to access your content based on their needs while simultaneously saving you and your business precious time that could be spent making more content. Not only that, but subtitles allow audience members who cannot hear due to being deaf or hard of hearing, situated in noisy spaces, and need discretion, to engage with your content.
Our products use the latest in advance speech recognition technology to seamlessly detect dialogue and turn it into subtitles. And with our intuitive editor, you'll be able to oversee the subtitles and make sure everything makes sense. That means no more accidental typos, no missing vital information from transcription fatigue, and getting your content out faster than ever before.