Automatically generate transcripts
Autogenerate transcripts from Arabic audio
Arabic automatic speech recognition that produces accurate transcripts, fast!

Competitive pricing and security guaranteed 

Upload, search, edit, and export in multiple formats with ease
Try for free
Loved by over 2 million customers
Transcriptions are notoriously tedious and inaccurate when produced manually, but the automatic speech recognition (ASR) software utilized by Amberscript provides high accuracy and the ability to edit any mistakes quickly. We can assist you in delivering the transcriptions your employees do their jobs well, leading your organization to thrive. Contact us today to begin for free!
---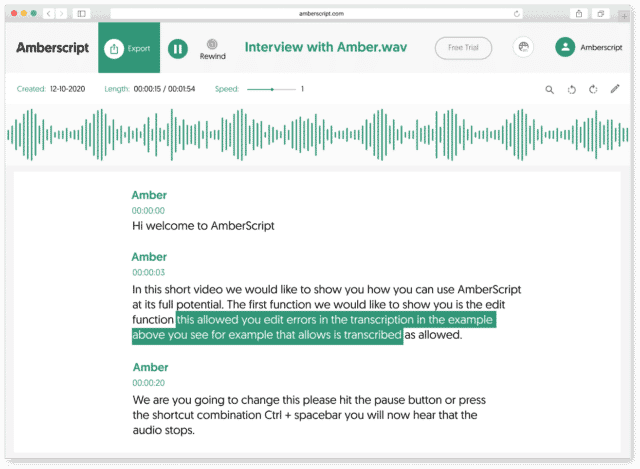 How to automatically generate Arabic transcripts:
1. Upload your video or audio file in Arabic. Select the number of speakers and the audio language. Sit back and relax while AI generates the transcript.
2. Edit your file. You'll receive your transcript text. Easily make any changes in our cloud-based editor.
3. Export your file. Whatever formats you need, we've got you covered. docx., .txt, .srt, .json, .vtt, or EBU.STL
Check out our
Trustpilot reviews
Excellent
Based on 376 reviews
Great tool for transcription
It's 80% accurate and II always recommend it to all of …
Maja Neumann
Exactly what I was looking for
I didn't know this site yet. I need to have …
Eddy
My honest opinion throughout the last…
My honest opinion throughout the last couple of weeks has …
Daniel Pott
Really helpful and easy to handle
The tool is really helpful and easy to understand. I …
Kathi
Automated transcriptions lighten my workload
As a researcher, I have been using Amberscript to transcribe …
John Siegel
Frequently Asked Questions
Creating accessible transcriptions is easier with Amberscript
With Amberscript, you can create high quality, accurate and affordable transcripts. Whether it's to enhance the experience of your, or making qualitative research easier to digest, transcripts can help in many ways. When you get started with digital accessibility (web accessibility), you can't ignore the WCAG. WCAG stands for Web Content Accessibility Guidelines. These are the guidelines for digital accessibility. WCAG 2.1 is the most recent version. These guidelines ensure that your content is accessible for everyone to experience and navigate, regardless of their ability.
Amberscript can help you ensure that you're in full compliance with guidelines regarding your audience that are deaf or afflicted with hearing loss and that you're keeping them on the same page as everyone else. Using Automatica Speech Recognition to transcribe Arabic audio is now more accurate than ever before, saving you time and valuable resources.