Automatically generate transcripts
Autogenerate transcripts from Norwegian audio
Norwegian Automatic speech recognition saves hours of transcription time

Competitive pricing with the fastest turnaround through AI

Upload, search, edit, and export with ease
Try for free
Loved by over 2 million customers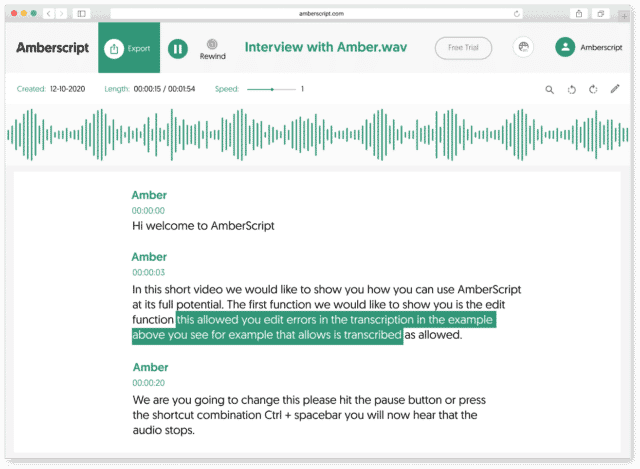 How to automatically generate Norwegian transcripts:
1. Upload your video or audio file in Norwegian. Select the number of speakers and the audio language. Sit back and relax while AI generates the transcript.
2. Edit your file. You'll receive your transcript text. Easily make any changes in our cloud-based editor.
3. Export your file Whatever formats you need, we've got you covered. docx., .txt, .srt, .json, .vtt, or EBU.STL
Check out our
Trustpilot reviews
Excellent
Based on 376 reviews
Great tool for transcription
It's 80% accurate and II always recommend it to all of …
Maja Neumann
Exactly what I was looking for
I didn't know this site yet. I need to have …
Eddy
My honest opinion throughout the last…
My honest opinion throughout the last couple of weeks has …
Daniel Pott
Really helpful and easy to handle
The tool is really helpful and easy to understand. I …
Kathi
Automated transcriptions lighten my workload
As a researcher, I have been using Amberscript to transcribe …
John Siegel
Which industries benefit from automatic Norwegian transcripts?
From modern academic research to creating accessible content for consumers across the globe, automatic transcriptions have never been more necessary. Hundreds of industries benefit from the use of automatic transcriptions, and you don't have to be of significant size to see those benefits.
For example, major corporations (think Coke or Amazon) benefit from automatic transcriptions in the same way a non-profit animal rescue or small-time influencer might. It's all about expanding your reach, and if you're running a contemporary business with an online presence, transcriptions can help you do that. 
How does the Amberscript ASR help create accessible content?
Transcribing your content, from meeting minutes to video captions, can help you send a clear message to various people. One of the best aspects of Amberscript, other than its lightning-quick results and insane accuracy, is that our technology can provide transcripts in many languages. Essentially, we're your one-stop shop for transcriptions, and we'll assist you in growing your brand reach and bringing your business to the next level.
Transcriptions make content accessible to those that would not have had that accessibility without them. Think about the hard of hearing and deaf communities for a moment.
They can't understand your brand message and the point your content is trying to make unless you communicate it to them through writing. Why risk losing out on such a prominent demographic just because you've unintentionally excluded them from access to the valuable content that coincides with and explains your products and services?
Transcriptions don't have to be time-consuming. Though they may have been manual once, those days are long gone, and efficient automation is at the helm. Amberscript can get you started on the right foot today. Whether you need Dutch, German, Italian, or Norwegian transcripts (and the list goes on), we'll make it happen!
Frequently Asked Questions