Automatically generate transcripts
Autogenerate transcripts from English audio
Automatic speech recognition saves hours of transcription time

Competitive pricing with the fastest turnaround through AI

Upload, search, edit, and export with ease
Try for free
Loved by over 2 million customers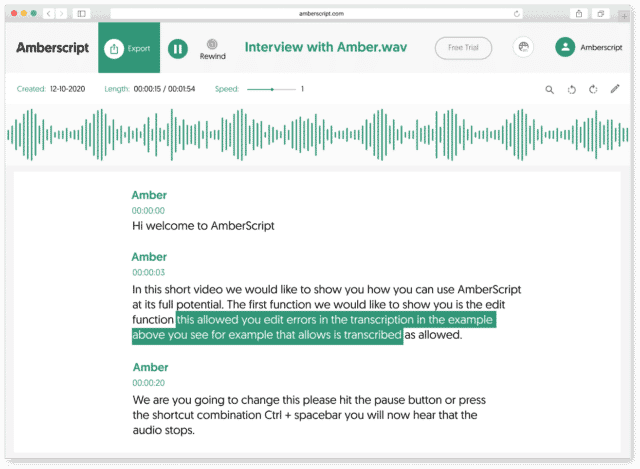 How to automatically generate English transcripts:
1. Upload your video or audio file in English. Select the number of speakers and the audio language. Sit back and relax while AI generates the transcript.
2. Edit your file. You'll receive your transcript text. Easily make any changes in our cloud-based editor.
3. Export your file Whatever formats you need, we've got you covered. docx., .txt, .srt, .json, .vtt, or EBU.STL
Check out our
Trustpilot reviews
Excellent
Based on 376 reviews
Great tool for transcription
It's 80% accurate and II always recommend it to all of …
Maja Neumann
Exactly what I was looking for
I didn't know this site yet. I need to have …
Eddy
My honest opinion throughout the last…
My honest opinion throughout the last couple of weeks has …
Daniel Pott
Really helpful and easy to handle
The tool is really helpful and easy to understand. I …
Kathi
Automated transcriptions lighten my workload
As a researcher, I have been using Amberscript to transcribe …
John Siegel
What are the benefits of autogenerating transcripts in English?
Saving time is crucial to running a successful business, besides a solid plan and a mission statement that your audience can identify with. It's difficult to correctly delegate all the tasks your team and employees must complete if you're always focused on repetitive workload responsibilities.
When done from scratch, transcriptions can take up some time. However, automatic transcriptions are a fantastic option when they're executed correctly. You can save plenty of time regarding your content creation goals and your ability to utilize the same piece of content on various social channels, whether you transcribe them in different languages or subtitle them to reach a more targeted audience.
Automatic transcriptions are entirely scalable, allowing you to create your video and audio content once and then transcribe it to reach a broader audience. Finding international attention means the potential for worldwide exposure.
That said, transcribing your documents in English means that your employees don't have to attend meetings if they're unable because you can provide them with the complete transcription without you manually entering it. Transcriptions are one of the best forms of communication in the workplace, extending across every industry.
How does automatic transcription work at Amberscript?
Amberscript uses Automatic Speech Recognition (ASR) technology to accurately transcribe your English audio and video. When your results aren't perfect, you can edit them or ask for help from our in-house team. We want you to have the best results possible from your transcription experience, and we continuously work around the clock to improve our AI technology and accuracy.
Frequently Asked Questions