It is no secret that one way of attracting more audiences to one's service offer is through the use of videos. Adding videos to web pages and business pages is one efficient way to boost coverage and increase sales. That being said, it is better to take this marketing strategy a step further. This is in the addition of captions to one's video. Adding captions to the video is a great way to increase coverage further. However, transcription is needed to add captions to web videos. This is why it is important to transcribe a video before it is uploaded on various platforms.
The good news is that there are many options available to people when it comes to video transcription. But one must learn how to transcribe videos the right way. Transcribing the right way is the only way to guarantee success in terms of sales boost and coverage. Before discussing the options available, this article will briefly discuss the importance of video transcription.
Importance of video transcription
When a video is transcribed, the result can be presented in two different ways. It is either provided as captions added to the videos or as transcript text on the web page. Both serve great purposes and help give the content more coverage. Here are some percentage facts that help show the importance of video transcription.
Videos with captions or transcription on web pages increase viewing chances by 40%
There is a 7.32% increase in video views with captions on YouTube hen compared with videos without captions.
There is also a 6.68% increase in search probability for videos with captions under SEO searches.
These three simple figure facts show how important it is for businesses and firms to transcribe a video before it is uploaded for marketing purposes.
How to transcribe a video
Several ways are available to clients, individuals, or firms looking to build and increase productivity by transcribing a video. Here are some of those ways.
1. Doing it yourself (DIY) approach
This is, perhaps, the very first step available to an individual when it comes to transcribing a video. All that is needed is to learn the basics of transcription, including the dos and don'ts. Once the basic knowledge is acquired, one can decide to transcribe manually by oneself. DIY transcription is common with videos that contain sensitive information. The content creator prefers to do the transcription personally so as to protect this information. However, the problem with this option is that it is tiring and time-consuming. For someone who is not a professional, this can take days. It is counterproductive when transcripts are needed urgently. The quality of the transcript might also suffer because one is not a transcription expert. These are some of the reasons why this option is not the best option for video transcription.
2. Mobile transcription apps
The App stores on various smartphones provide another way to transcribe a video. There are various apps on these stores that are capable of transcribing video. These apps are available in different formats; some are free while others charge based on words or provide a monthly subscription option. The quality of transcription often depends on the sound quality of the video. This is one of the major limitations of using mobile apps. Also, they only work best with videos of a few minutes. They might not be the best option for long videos.
Improvement on smartphone apps is the free apps on desktops or PCs. Some of these apps are downloadable and can be used without an internet connection. Others require an internet connection. Desktop apps have higher quality and accuracy rate when compared to mobile apps. However, these apps don't give one much control over the transcription process. There is still a need to proofread in order to correct errors made by the apps.
4. Automatic captioning by YouTube
This option is available particularly to those that upload content on YouTube. It is an option provided by the platform to help content developers in adding captions to their videos. It is automatic and fast, taking only a few minutes. However, the accuracy of the transcription is heavily dependent on the quality of the video. The accuracy ranges between 50% and 80%. Background noise, accents, and many others can affect the quality and accuracy of the transcription. For videos created in a controlled environment, this option provides a satisfying result. But for videos with noisy backgrounds or with inadequately picked up sounds, the transcription might be less accurate.
5. Cloud Speech by Google
Cloud Speech API is an interface provided by Google for video transcribing services. It is quite sophisticated and can guarantee a higher percentage of accuracy when compared to the other options mentioned above. It can recognize scores of languages and difficult words. The interface also has many features that make transcription less stressful for individuals or firms. It is no surprise to learn that this Google feature is not free. The charge is based on the number of words, the quality of the video, and many other factors.
The most efficient way to transcribe a video is through online web apps that provide video transcribing services. Several video transcription services are available to individuals and firms that need to transcribe a video for professional use. It is the safest option on how to transcribe video the right way. However, a video transcription service must have some important features if it is to provide quality transcripts with the best services.
Multiple transcription offers
Multiple languages
Security
Speech identification
Speed
One quality web page that offers quality transcription services with the above features is Amberscript.
Video transcription from Amberscript
Amberscript is an online transcription service that uses AI speech recognition software to give clients the best transcription technology can offer. Our goal is to make communication easier for everyone involved. We use technology and science to breach the gap that exists due to the differences and dynamics that exist in language.
Here are the amazing features that put us as one of the best in video transcribing services.
1. Multiple transcription offers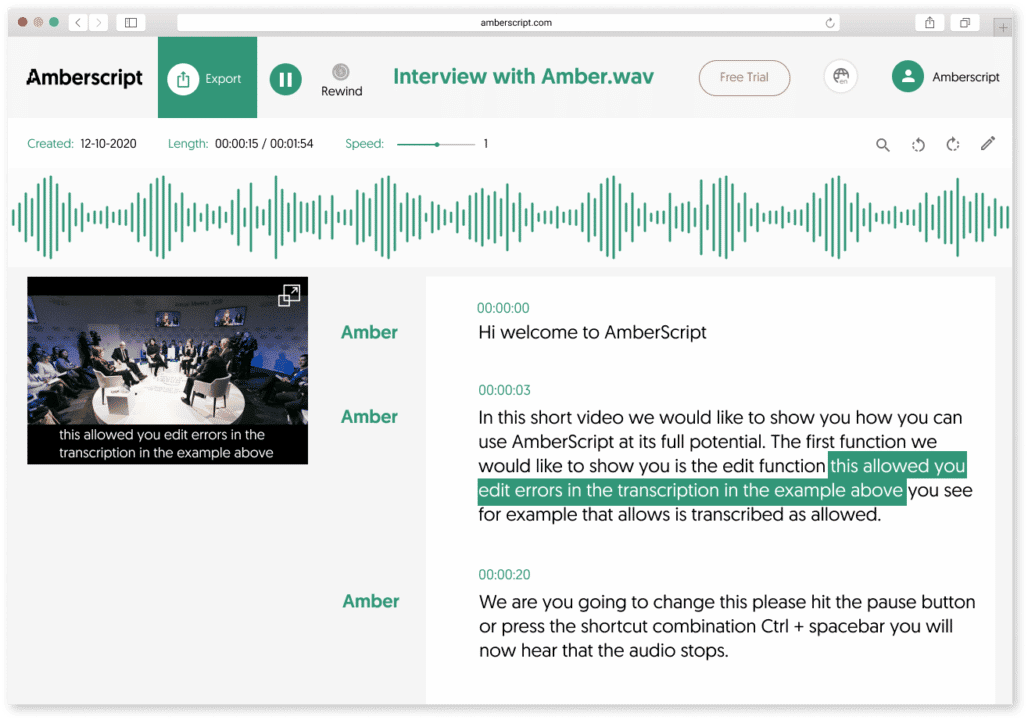 At Amberscript, we offer two different video transcribing services for clients, depending on their preference. This gives clients the option of tailoring the services to their needs and circumstances. They are:
Automatic transcription
This service option makes use of our automatic text generator to provide text for your video. The process is easy and straightforward. The speech recognition software detects the language and immediately starts the transcription process. The whole process is automatic, and you are provided with a draft for cross-checking.
Manual transcription
This option makes use of our automatic text generator and the services of our experts. When the text is automatically generated, they are reviewed by our experts. Our experts then check the text for errors and make corrections. They can also help to personalize different parts of the transcript.
These options make it possible for clients to be flexible in their choice of service.
Our transcription services are available in multiple languages. You can transcribe a video in up to 30 major languages when you use the automatic transcription option. Also, language experts in more than 15 major languages are available for the manual transcription option.
3. AI-powered subtitle alignment and formatting
We have designed an approach based on deep learning and natural language processing (NLP) when it comes to formatting subtitles. We trained models to automatically determine the best position to insert a line break, using high-quality subtitles as training data. We have also built an automatic forced alignment algorithm for subtitles. We currently support forced alignment in three languages – Dutch, German, and English, with more to come in the future. More information can be found in this article.
Security concerns are one major reason why many prefer the "do it yourself" approach when transcribing a video. However, we provide security for our client's data. This is one of the reasons why we are the best out there. Our platform is built on secure server software that helps to protect data. When you pick the manual transcription option, all the process involved is done by our professionals so you can rest assured of security for your sensitive contents.
5. Speech recognition software
Our software can detect speech with high accuracy. The AI software can detect speech from videos with noisy backgrounds or poor output quality. It is also able to detect the speech of speakers with thick or unusual accents. This helps to guarantee high efficiency when there are multiple speakers in the video.
Our transcription process is completed in minutes. So, you are able to get your urgent transcript swiftly. For businesses or firms that produce videos consistently, our efficient speed is one way to ensure that the transcriptions are provided on time.
How to Transcribe on Amberscript:
Visit our website
Select your preferred service
Upload the video and start the transcription process.
There are several ways to transcribe a video. Some options are less efficient compared to others. However, the use of web pages like Amberscript is the best way if one wants to transcribe a video the right way. Make use of our amazing features and enjoy excellent services.