Communication has been a major part of human existence. Through different civilizations, man has found a way to communicate with his fellow man. Because the most common forms of communication involve speaking, people with hearing issues such as the deaf or hard-to-hear people have faced some difficult challenges. However, the good news is that language is much more than just sounds and speech. There are various forms of it. Language could be expressed in signs, texts, signals, and lots more. This has made it possible for many who have hearing problems to live graciously and be a part of society. The amazing thing is that some have done more than just live in society; they have thrived and excelled in it. Their excellence in society has made them famous in their different facet of life. They are proof that speech and sound is not a barrier to communication. Here are some of the famous deaf people and in history.
| | |
| --- | --- |
| 1. Ludwig Van Beethoven | |
| | The first name on the list is quite amazing and ironic at the same time. If you are a lover of symphonies, the name Beethoven would not be strange to you. L.V. Beethoven is regarded as one of the greatest composers that ever lived. What people don't know about this man is that he was deaf at a point in time. Though he wasn't born deaf, Ludwig started having difficulties with hearing around the age of 26. By the time he was 52, it was assumed that he was completely deaf. He had to face a new reality, but it didn't slow him down a bit. Here is a fact truly amazing. Symphony 9 – one of his greatest classical pieces ever – was composed after becoming completely deaf. It takes greatness for a deaf man to achieve such an amazing feat. |
| 2. Thomas Edison | |
| | One of the most famous men to have ever lived is Thomas Edison. He is perhaps the most famous inventor of all time. What most people don't know is that Edison was completely deaf at the time of his inventions. He was young when he developed hearing problems, and by the time he was a teenager, he was completely deaf. That part of his life did not slow him down a bit. Most of his great inventions came after he became deaf. He even mentioned that his deafness helped to focus on his work as he wasn't distracted by the noise around him. |
| 3. Bill Clinton | |
| | This man is not just one of the most famous, he is one of the greatest men in American history. Very few people in the world would know for a fact that Bill Clinton was wearing hearing aids while he was the President of the country. Although he wasn't born deaf, he developed hearing issues when he was young. His exposure to loud music likely caused this. However, he did great for himself, for those around him, and his country. |
The Entertainment Industry
The entertainment industry especially the movie industry demands a lot from actors and actresses. One of the major components of this industry is communication. It is especially hard to be an actor with hearing loss. However, surprisingly, many famous deaf actors and actresses are thriving in the industry. They have found a way to show their talent while overcoming the difficulties associated with hearing loss. Here are some of those famous deaf actors and actresses.
4. Nyle DiMarco




A fan of Hollywood would know Nyle DiMarco from when he won America's Next Top Model in 2015. He has also enjoyed a stunning career in modeling. What most people don't know about this famous deaf actor is that he was not only born deaf, he was born into a family with three generations of deaf people. His entire family is deaf. Some years back, DiMarco sent out his audition video for a role. The video was in sign language but with complete subtitles and caption. The movie directors loved his audition and he was invited. He later bagged the leading role of a movie from the American Sign Language Films. He is fluent in English and American Sign Language. He has also mastered the art of reading lips to aid his communication skills.



5. Marlee Matlin




It is hard not to be famous when you are the only deaf actress to have won an academy award. Anyone who knows this amazing actress from her participation in a season of "Dancing with the Stars" would know about her hearing loss. If your first time seeing Marlee Matin was her role in "Against Her Will," you might find it difficult to accept the fact that she has hearing loss. She acted as a hearing woman in this movie, and she perfected the role.

Marlee Martin was diagnosed with hearing issues before she was two years old. By the time she was a teenager, she was deaf in one ear and only 20 percent hearing in her other ear. When famous and successful hard-of-hearing actors are mentioned in the movie industry, she is on the list.



6. Jane Lynch





Another worthy name on the list of famous deaf actors or hard-of-hearing actors is Jane Lynch. She had performed many and various roles in the entertainment industry. She is also a singer, a comedian, and a voice actress. Her most popular act was her role in the TV series "Glee." She played the role of Sue Sylvester

Jane Lynch had a high fever when she was a kid and this affected her right ear. She was completely deaf on the right. However, she grew up to be one of the most famous deaf actors in Hollywood.

Many other hard-of-hearing actors and actresses are in the movie world today. Their success and participation is a gift that keeps giving.
Digital accessibility is one of the major advancements in technology today. It has made it possible for those with speech barriers to participate and enjoy society to the fullest. Digital accessibility makes it possible for people to access information on websites, apps, audio, and video content. The role of digital accessibility is to bridge the gap between the provider of the information and the receiver. Some of the likely issues include the language barrier, speech barrier, hearing loss, and many more. Digital accessibility allows a deaf audience to enjoy content and receive information as much as possible. Let's look at one area in which digital accessorily has made communication easier for all
There is a lot of visual content with useful information today. Some others are pure entertainment that shouldn't be missed. One of the ways to get the content to a larger audience is through the use of subtitles. Here are two scenarios where subtitles might come in handy for deaf people.
Subtitles help the deaf audience to understand what is being said.
Visual content with sign language would need subtitles to help others understand.
It is quite important to provide subtitle files for your videos.
Amberscript is an excellent transcription and subtitles service provider. We offer the easiest method of adding subtitles to your video content. Our goal is to ensure digital accessibility for all including those who have hearing loss. We offer two major types of subtitle services.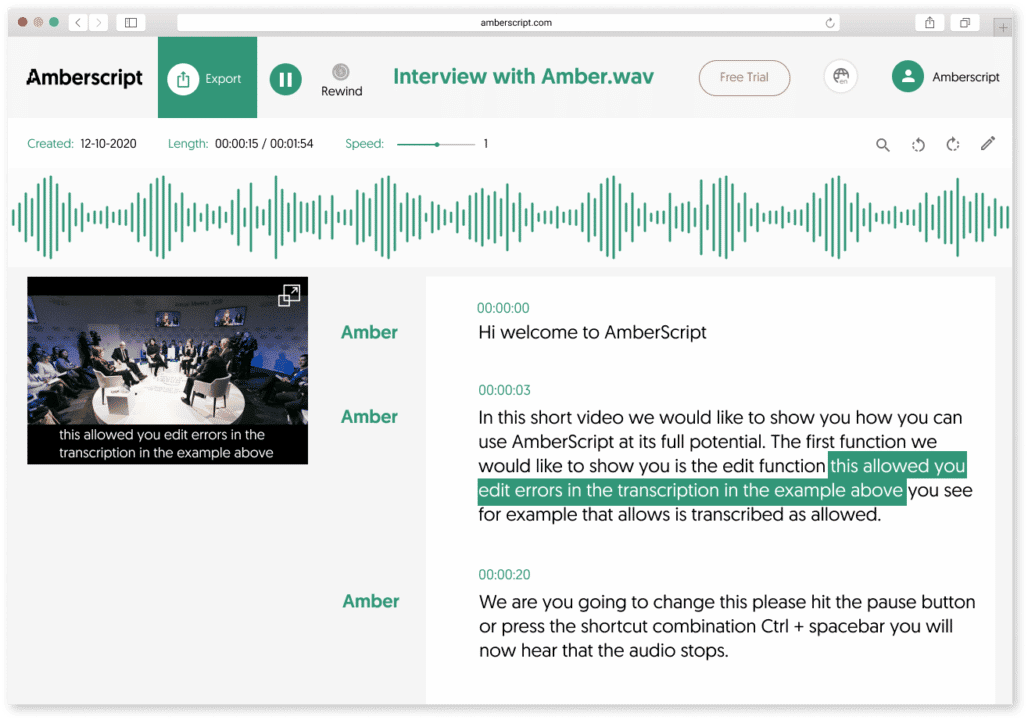 Our automatic subtitles service allows you to generate subtitle files for your video content in minutes. It is straightforward.
How to use the automatic subtitle service:
Our speech recognition software generates a draft and a quality checker checks for errors. The final subtitle is made ready for download. You can download it with the video or separately.
The second mode of subtitle that we offer is manual subtitles. This allows you to work with our subtitlers and professionals.
How to use our manual subtitle services?
Automatic subtitles are generated using our speech recognition software. Our subtitlers make the necessary adjustment to the subtitle based on your preference. We check the final subtitles for errors using a quality checker. You can export the video with the subtitles embedded in it.
Alternatively, you can export the subtitle file separately. The formats available for export include Text, SRT, VTT, or EBU-STL, and others.
You can also get timestamps and speaker distinction. For diversity, you can subscribe to multiple languages as subtitles.
Hearing loss should not be a barrier for one to chase after his dream and goal. Digital accessibility has made it easier for us all to enjoy quality content. Speech, language, and the likes cannot serve as obstacles anymore. Also, the use of subtitles helps to get our message and content across to a larger audience.