Automatically generate subtitles
Autogenerate subtitles in Russian
Easily get Russian subtitles using our Automatic Speech Recognition (ASR) software. Russian is one of the three main East Slavic languages that exists today, along with Belarusian and Ukrainian. Of the three, Russian is by far the most widely spoken, with over 258 million speakers across the globe today. Over 137 million of those people are located in Russia. Russian is actually the most spoken native language in all of Europe. The ASR can detect many Russian dialects and colloquialisms.
Try for free
Loved by over a million customers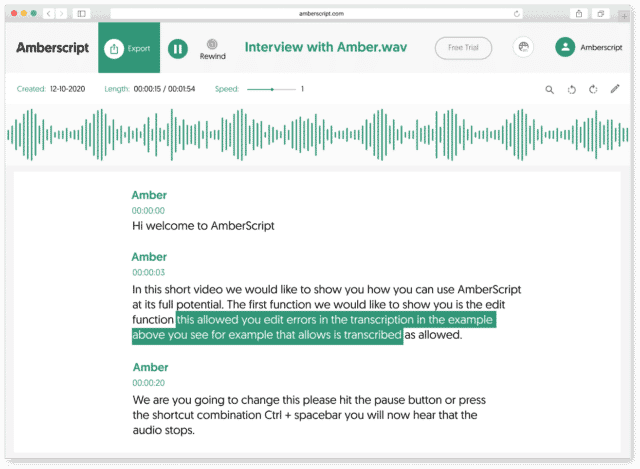 How to automatically generate Russian subtitles:
1. Upload your video in Russian Upload your video. Select the number of speakers and the audio language. Sit back and relax while AI generates the subtitles.
2. Edit your subtitle file You'll receive your subtitle text. Easily make any changes in our cloud-based editor.rnrn
3. Export in multiple formats Whatever formats you need, we've got you covered. docx., .txt, .srt, .json, .vtt, or EBU.STL
Check out our
Trustpilot reviews
Excellent
Based on 376 reviews
Great tool for transcription
It's 80% accurate and II always recommend it to all of …
Maja Neumann
Exactly what I was looking for
I didn't know this site, this software. I need to …
Eddy
My honest opinion throughout the last…
My honest opinion throughout the last couple of weeks has …
Daniel Pott
Really helpful and easy to handle
The tool is really helpful and easy to understand. I …
Kathi
Automated transcriptions lighten my workload
As a researcher, I have been using Amberscript to transcribe …
John Siegel
Frequently Asked Questions
The benefits of using ASR to generate Russian subtitles
If you're looking to add subtitles to your video , Automatic Speech Recognition (ASR) technology makes the process quick and easy. The AI software effectively works as a vocal recognition software that can process the speech in videos, format the subtitles and synchronize them to the content's audio.
Using ASR is a simple process that saves up to 10-times the amount of time of manually processing subtitles yourself. All you need to do is upload a video to the platform and the AI automatically processes it. 
When the video is finished processing, a first draft is generated that you can conveniently edit in an online editor. View the timestamped subtitles throughout the video and see how they appear on it in the preview window. You can edit any of the text and shift timestamps as needed.
Adding subtitles to videos has been proven to make content more accessible and opens it up to a much wider range of audiences, including those who are deaf or hard of hearing. ASR gives you the power to automatically generate subtitles so you can take full advantage of increased content engagement and other positive metrics on your videos.