Automatically generate subtitles
Autogenerate subtitles in Greek
Easily get Greek subtitles using our Automatic Speech Recognition (ASR) software. The Greek language is one of the oldest documented languages in the world that's still spoken today. The majority of the world's native Greek speakers are in Greece, estimated around 10.7 million people. Other countries with large Greek-speaking populations include Cyprus, the United States, and Australia.
Try for free
Loved by over a million customers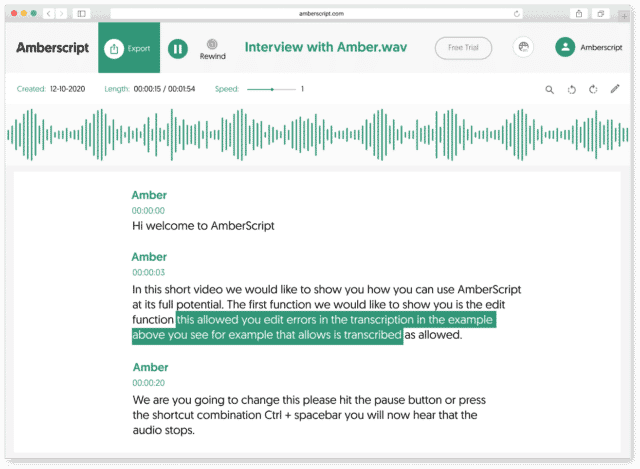 How to automatically generate Greek subtitles:
1. Upload your video in Greek Upload your video. Select the number of speakers and the audio language. Sit back and relax while AI generates the subtitles.
2. Edit your subtitle file You'll receive your subtitle text. Easily make any changes in our cloud-based editor.
3. Export in multiple formats Whatever formats you need, we've got you covered. docx., .txt, .srt, .json, .vtt, or EBU.STL
Check out our
Trustpilot reviews
Excellent
Based on 376 reviews
Great tool for transcription
It's 80% accurate and II always recommend it to all of …
Maja Neumann
Exactly what I was looking for
I didn't know this site, this software. I need to …
Eddy
My honest opinion throughout the last…
My honest opinion throughout the last couple of weeks has …
Daniel Pott
Really helpful and easy to handle
The tool is really helpful and easy to understand. I …
Kathi
Automated transcriptions lighten my workload
As a researcher, I have been using Amberscript to transcribe …
John Siegel
Frequently Asked Questions
The benefits of using Automatic Speech Recognition
Automatic Speech Recognition (ASR) is a powerful voice recognition technology that makes it easy to automatically add subtitles to your videos in different languages, like Greek. ASR takes the time and work out of manually adding subtitles videos. Simply upload the video file in a range of formats, the speech recognition engine analyzes it and generates timestamped subtitles for it.
After the first version is processed, you can make any changes you see fit easily in an online editor. Watch your changes in the dynamic preview window. Once you're satisfied, simply export the video in the file format of your choice.
ASR has been proven to be 10-times faster than manually adding subtitles to videos. The AI is highly accurate, minimizing any editing work you need to after they're generated. The ultimate benefit of ASR is that it enables you to increase the accessibility and audiences of your video quickly.
With ASR, you have the option to add subtitles in 39 of the world's most widely spoken languages, including Modern Greek. The technology allows you to increase your content engagement without the manual labor and time of placing subtitles onto your videos.